The time standards required for high school swimmers to attain All-America status for the 2022-23 season have been released by the National Interscholastic Swimming Association (NISCA).
As is typically the case, several times have gotten faster, specifically for the automatic standards. Nine of 11 auto cuts for boys in short course yards are faster than they were in 2021-22, while seven of the girls' SCY standards are quicker. Two events, the 200 free and 500 free, are notably slower on both sides.
2022-23 NISCA All-America Time Standards (SCY)

Although its contested much less frequently in high school swimming, athletes can also attain All-America status in short course meters.
2022-23 NISCA All-America Time Standards (SCM)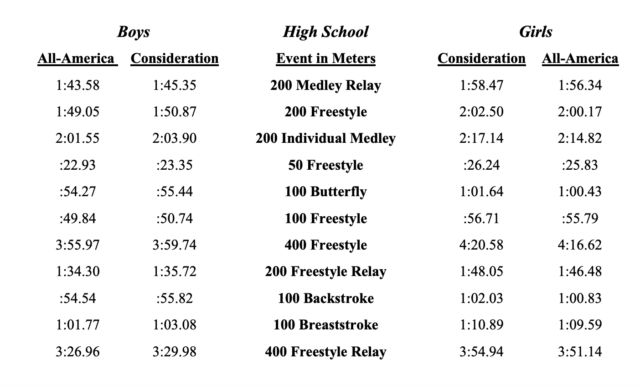 To earn All-America designation, a swimmer must be on an interscholastic team and be scholastically eligible as determined by his/her state athletic association or school authority. All swimmers must be in at least the ninth grade level of school to be eligible and are limited to 8 consecutive semesters. No middle schoolers or fifth-year seniors will be considered. The top 100 swimmers in each event will be chosen. Times on the below list must be achieved during the program year, either in short course yards or in short course meters. Those who make the consideration standard will be added until 100 swimmers are chosen per event.
Applications may be submitted from November 1st through June 15th, as mentioned in the official rules. NISCA only recognizes athletes whose applications are submitted by the deadline.
Several high school swimmers have already completed their 2022 seasons, with several notable performances being produced, headlined by Kaii Winkler's National Age Group Records for 15-16 boys in the 100 free of 42.52 (which has since been broken) and the National High School Record set by Brookfield junior Maggie Wanezek in the girls' 100 back (51.09).
Last season, a total of 4,207 All-America honors were given out. You can find the full list of honorees here.