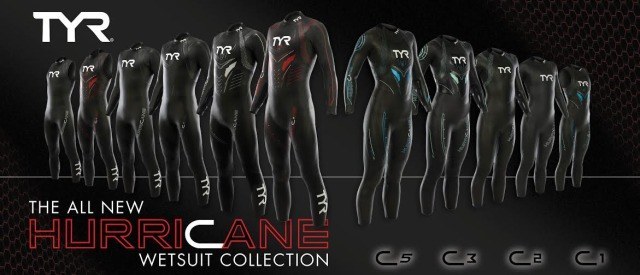 For years, the TYR Hurricane collection has helped triathletes, from beginners to professionals, achieve their full potential. Because of its immense success, TYR has redesigned the line to further enhance its own performance standards. The company added even more advanced features to the Category 5, 3 and 1 wetsuits, and they created a brand new Category 2 suit.
The Category 5 remains the most elite wetsuit in its class. Engineered with advanced 100% Yamamoto 39 Cell Nano SCS Super Stretch Rubber, this suit gives you the feeling of a second skin. TYR made the Cat 5 even more cutting edge with the addition of flotation panels on the abs, chest, obliques and legs. Targeting these key muscle groups allows for optimal body positioning in the water, maximum buoyancy and speed, as well as core stabilization and long-term preservation of core strength. This elite wetsuit has also been updated with a full antimicrobial lining for long lasting freshness. Additionally, The Cat 5 now features alpha catch panels for a maximized catch-and-release stroke, while an insulated, thinner layer underneath allows a feel for the water. Aesthetically speaking, this wetsuit has received the ultimate makeover, featuring new graphics, styling and male/female colorways.
Exciting additions were also applied to the Category 3. It is engineered with 100% Yamamoto 38 Cell Nano SCS Rubber for super sleek and flexible performance in the water. It has also received additional flotation panels, specifically in the chest, abs and obliques. Like the Cat 5, the Cat 3 now features a full antimicrobial lining and alpha catch panels, as well as new graphics, styling and male/female colorways.
The Category 1 wetsuit is structurally remaining the same, but now features more competitive pricing, which is sure to appeal to beginner triathletes. This suit is constructed with slick-skin neoprene for minimal drag and maximum speed.
In addition to remodeling the existing suits, TYR also added an entirely new category: the Hurricane Category 2. Engineered for the beginner to intermediate competitor, this brand new wetsuit is full of advanced features to maximize performance while adhering to an affordable price point. It is constructed with Slick Skin Neoprene, which provides minimal drag and maximum speed and durability. Features include elevation panels in the chest and abs, alpha catch panels, speed wrap paneling, ROM zones, partial anti-microbial lining and quick-release ankle and wrist cuffs.
Set to hit shelves in early November, the updated Hurricane wetsuit collection is sure to take the triathlon world by storm.
Named for TYR, the Norse god of warriors, we are a company started by athletes and powered by athletes. We are dedicated to re-imagining technologies that help athletes obtain peak performance through innovation and design. Like all athletes, we always work with an intense spirit of competition. Everything we do revolves around creating the fastest, most advanced performance products. Always in front.
Swimming Gear News courtesy of TYR, a SwimSwam partner.