Brunch- the ultimate "treat yourself" meal and an excuse to enjoy a few mimosas on a Sunday afternoon (if you're of age!). While it's fun to taste test different menu items and explore new eateries, brunch cuisine can easily be replicated in the comfort of your own kitchen. Instead of dining on overpriced french toast, why not make it yourself and save the money? With a few staple grocery items and a spark of creativity, any home chef can transform the mundane weekend breakfast situation into a delectable array of dishes worthy of a 5-star Yelp rating.
Without further ado, here are some of my favorite ways to prepare brunch at home!
Simple Chocolate Chip Banana Bread

Ingredients
3 Bananas
2 ½ cup Oats
2 Eggs
1 tsp Baking Soda
Sprinkle of Cinnamon
Handful of Chocolate Chips
While in quarantine, everyone and their mother is making banana bread. While this might not be a typical brunch entree, a warm, gooey slice goes great with some fresh fruit and steaming hot coffee. If you want to cut down on the sugar in this recipe, I recommend you replace the chocolate chips with some walnut or sliced almonds for an added crunch!
First, preheat the oven to 350F and grease a loaf pan. Add the bananas, oats, eggs, baking soda and cinnamon to a blender or food processor and blend until completely smooth. Pour the mixture into a separate bowl and fold in the chocolate chips. Next, pour the batter into the greased loaf pan and sprinkle some additional chocolate chips on top. Bake for 25-30 minutes and let cool for about 30 minutes before slicing.
Almond Butter + Raspberry Stuffed French Toast

Ingredients
1 Egg + 1 Egg white ⠀
2 Slices of bread
Sprinkle of Cinnamon⠀
Splash of Milk ⠀
Handful of Raspberries ⠀
2 tbsp Almond Butter
Drizzle of honey
Stuffed French toast is probably the most drool worthy item on any brunch menu. This version of the brunch classic isn't as voluptuous, but still packs some insane flavor! Not to mention, this french toast is naturally sweetened by the raspberries and a drizzle of honey on top, so you don't have to feel guilty for eating dessert for breakfast!
First, combine the egg, egg white, cinnamon and a splash of milk in a bowl. For this recipe, you can use either plant-based milk or cow's milk. Next, get 2 pieces of bread and sprinkle cinnamon on both sides (pro tip). Smear nut butter on one piece and smash room temperature raspberries on the other piece. Sandwich both slices of bread together as if you are making a PBJ. Then, place the sandwich in the egg mixture and let this soak for about 1-2 minutes until the bread is thoroughly saturated. Flip the sandwich over onto the other side and repeat the previous step. Now that the sandwich is coated in the egg mixture, fry this up for a few minutes on both sides. Make sure that the egg is cooked through and the bread is crispy and golden brown. Remove the french toast from the skillet and add your toppings. Enjoy!
Banana Berry Waffles

Ingredients
1 Banana
2 Eggs
½ cup Oats
Dash of Cinnamon
1 tsp baking powder
Handful of Berries
Sprinkle of Pumpkin Seeds
Drizzle of Nut Butter
Drizzle of Honey
A larger than life, Belgian waffle topped with ice cream is definitely a "treat yourself" meal. While this is certainly enjoyable for your taste buds, it might not be so nice for your waistline. This recipe is the perfect example of healthified waffles! Here, I replaced the buttery waffle batter with an oatmeal and banana based batter and swapped out the ice cream for nut butter, seeds, berries and a drizzle of honey. Same nostalgic waffle feeling just way healthier.
First, add the banana, oats, cinnamon and baking powder to a blender or food processor and blend until smooth. Diligently spray your waffle iron with cooking spray and pour in the batter once the iron has heated to the appropriate temperature. Depending on your iron, you will cook the batter according to the timer. Once the waffles are done cooking, it's time for toppings! I used almond butter, black berries, pumpkin seeds and honey however, you can totally customize this based on your own preference. Go crazy!
Check out my page for more recipe inspiration and be sure to share your student athl-eats with me @whatzoeeeats.
About Zoe Gregorace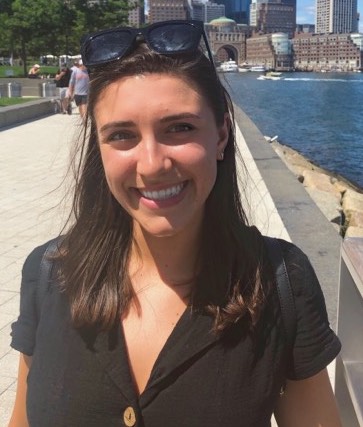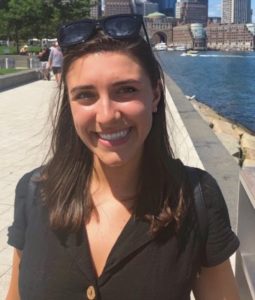 Zoe Gregorace is currently studying Nutrition Policy at the Tufts Friedman School of Nutrition Science and recently graduated from Tufts University, where she earned a Bachelor of Arts degree in Sociology and was a proud member of the Tufts Swimming and Diving team (Go Jumbos!). During her 16 year career as a competitive swimmer, she developed a passion for sports nutrition. She enjoys writing on the topic of nutrition, health and wellness and posts her meal creations on her Instagram page @whatzoeeeats. As a former college swimmer, she strives to share recipes and nutrition tips to promote balanced eating and optimize sports performance.