While meets are largely on hold worldwide right now due to the effects of COVID-19, and many teams are just getting back to practices, we still want to highlight and celebrate swim teams from around the country. This week's Team of the Week is the Scottsdale Aquatic Club, a year-round USA Swimming Club that's served the Phoenix, Arizona, area since 1964 and currently sits at just under 500 swimmers.
Head coach Kevin Zacher has been with SAC since 2002. During his time with the team, Scottsdale has steadily climbed the ranks of USA Swimming clubs, earning team Junior National titles and National Age Group records, winning individual national titles, and seeing swimmers like Taylor Ruck earn Olympic medals.
We caught up with Zacher and talked to him about what makes Scottsdale Aquatic Club so special, as well as some of his thoughts on coaching in general. Zacher describes his coaching philosophy simply as "Together Everyone Achieves More (TEAM)."
While SAC has seen plenty of individual success, that focus on the team aspect is something that permeates throughout both the coaches' and the swimmers' approach to training and racing. "Everyone is working together to help each other achieve their goals. The swimmers treat each other with respect and help and challenge each other to be the best they can be," explained Zacher.
Speaking of training, we also like to ask coaches to describe what they (or their swimmers) would consider to be an iconic set that the team has. Zacher told us that SAC uses "30 x 100 @ 1:30, best average" pretty often, and while that's not too out of the ordinary, it's definitely a workout that gets results, as the team's success has shown.
While being successful in producing swimmers who make an impact on the national and international level is a great thing, it can also bring some unique challenges, and Zacher acknowledges that it can be a struggle
to make sure every swimmer feels valued and important. We have a lot of fast swimmers…it is important that those striving to make their first state cut or sectional cut know that taking that step is just as important as someone striving for a national cut.
Zacher's favorite coaching memory is a great reminder that swimmers can get up and surprise even their coaches sometimes with an amazing swim outside of what they've had success with in the past.
2015 or 2016 Winter Junior Nationals…our boys won the 800 Free Relay and set the meet record. Our team (boys and girls) was stacked…great group of kids…we were heavy on the sprint events with the boys. They came together and put up a great 800 Free Relay that I was really proud of! Historically that was a relay that we struggled with at bigger meets.
Scottsdale Aquatic Club is one of 3,000 swim clubs in the United States. How can we grow that number and promote the sport? 
ABOUT BSN SPORTS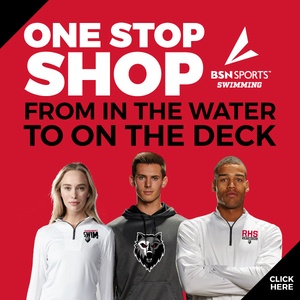 Founded in 1972 as a factory-direct equipment company, today BSN SPORTS is the largest distributor of team sports apparel and equipment in the United States, with over 3,000 employees across 80 regional offices. At BSN SPORTS we believe that sports have the power to change lives. At the heart of what makes sports happen are the coaches, teachers and mentors who work with young and old alike to build meaningful lifelong experiences. That's why our mission is simple. The more time we save coaches with everything they do off the deck, the more time they can spend changing lives. And that's the real final score.
Get your swimmers in custom team gear with your team's logo. My Team shop provides a one-stop-shop solution to custom apparel, suits, footwear, equipment and accessories. It's simple to setup and the My Team Shop platform can even serve as a fundraising solution to earn dollars for your program. To set one up today email us at [email protected]or call 1-877-217-9027.
To learn more about BSN sports visit us at www.bsnsports.com/ib/swimming.
BSN SPORTS SWIMMING ON Instagram – @bsn_swimming