Featured image: Olympic Champion Anthony Ervin, courtesy of FINIS
A key ingredient of a successful underwater kick is a proper coordination between the movements of the head, chest, hips and feet. Without a balance between all movements of the body a swimmer sacrifices speed, strength and efficiency in underwater kicking.
So how does a coach or swimmer restore balance if it is lost?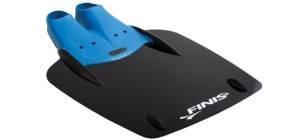 Using the Trainer I monofin provides swimmers with the instantaneous physical feedback necessary to correct an irregular underwater kick.
The elongated design of the Trainer I calls for a more balanced kick, from head to toe. In manipulating a longer blade, swimmers must begin the Foil body motion from the top of their body and maintain strength in the core and leg muscles to complete a successful kick. Additionally, the Trainer I often calls for a swimmer to slow the rate of the underwater kick from a typical race pace. The slower cadence of the kick while wearing the Trainer I allows for swimmers to deliberately focus on each unique component of the kick. The Trainer I is an effective drilling tool best suited for senior level age group swimmers, collegiate athletes or more serious fitness swimmers/triathletes.
Swim Training / Swim Gear / Swimming News courtesy of FINIS, a SwimSwam partner.