This was originally published over at YourSwimBook.com. Sign up for Olivier's weekly motivational newsletter for swimmers by clicking here.
Ryan Lochte's work ethic in the pool is second to none. For #TBT we are going show a set from 2012 he describes as one of the hardest he has ever done.
The fastest swimmers in the world are fascinating to watch.
The unrelenting power and skill that the best of the best display is particularly impressive, with swimmers like Ryan Lochte who manage to make even fellow international level swimmers appear pedestrian by comparison.
And for those of us who marvel at the way top swimmers perform when they race, we are equally awed and intrigued by the feats they perform in practice.
Fast Swimmers Crush Their Swim Practices
Great swimmers don't just swim fast and perform well when it comes to competition, but they also do serious work when it comes to practice.
And Ryan Lochte, who possesses a range and versatility sculpted from thousands and thousands of miles of training, is no exception.
Before Lochte moved to North Carolina to swim at SwimMAC under coach David Marsh he trained under Gregg Troy at the University of Florida, where weeks of 70,000m in the pool were not uncommon.
A protocol of high yardage has helped Lochte build the insane conditioning that allows him to race multiple events at high level meets, not the least of which is the punishing 400m individual medley, an eveng in which he's the defending Olympic Champion.
During the run-up to the 2012 London Olympics, Lochte's work at Florida was its zenith.
In an afternoon workout in March a couple months before US Olympic Trials he did the following swim workout, which he would later characterize as "brutal", which is saying something given Lochte's capacity for work.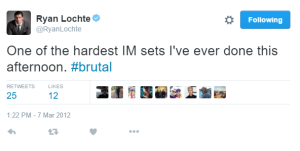 Here is the workout:
4 rounds through—
2×100 butterfly from a dive all-out @1:30
2×50 backstroke, 1 all-out, 1 cruise @:50
100 freestyle @1:20
400 IM all-out @5
Notes:
The workout was done in long course meters.
Just the set was 3,200 meters (not including warm-up and warm-down).
Lochte's times on the 400 individual medleys were as follows: 4:29, 4:29, 4:28, and 4:27.
If you weren't hungry before this set, you will most certainly will be afterward.
About YourSwimBook

YourSwimBook is a log book and goal setting guide designed specifically for competitive swimmers. It includes a ten month log book, comprehensive goal setting section, monthly evaluations to be filled out with your coach, and more.
Learn 8 more reasons why this tool kicks butt.
Join the YourSwimBook weekly newsletter group and get motivational tips and more straight to your inbox. Sign up for free here.