With their Early admission letters now in hand, nine future Princeton University men's swimming and diving team members have announced their commitment to the class of 2022.
Tindar Cyr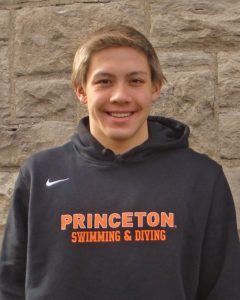 "I'd like to extend my sincerest gratitude to every coach, family member, teacher, and friend that has helped me on along the way. Thank you to my wonderful mother and father for all of the love and tenacity you put into raising me. Thank you to coaches Brad, Aaron, Mike, Sue, Brandon, and Erin as well as my many tremendous teachers that have prepared me to be successful at Princeton. The lessons you have taught me extend far beyond the pool and the classroom. Finally, I'm looking forward to following my brother to Princeton … and passing him in the pool! "
Cyr, who hails from Cincinnati, Ohio where he attends Seven Hills Upper High School and swims for Cincinnati Marlins, would like to pursue a degree in fields related to the brain and cognitive sciences like Psychology, Neuroscience and Biological Engineering. "I look forward to utilizing the university's unparalleled resources to learn everything I can about the brain. In addition, Princeton's curious and investigative culture creates the perfect environment to broaden my intellectual horizons on all fronts." Cyr also has a unique view into the men's swim program as the younger brother of sophomore Tigar Cyr. "Princeton's team camaraderie combined with its disciplined and methodical approach to improvement provides my ideal program. Coach Rob and Coach Doug are enthusiastic, detail-oriented and believe everyone is capable in the pursuit of excellence, which is exactly what I wanted to feel from my mentors."
Best SCY times:
100 Breaststroke: 58.04
200 Breaststroke: 2:04.96
400 Individual Medley: 4:08.54
Brendan Firlie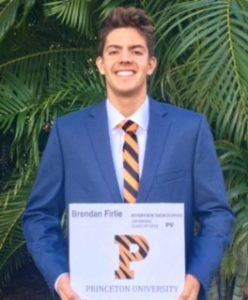 "I'd like to thank all of my family for always believing in me; my teammates for the incredible journey; and my teachers & coaches for their never-ending dedication and time. I'm honored to be a part of something much bigger than myself, and I can't wait to swim for Princeton and everything the university represents. Go Tigers!"
Firlie is from Sarasota, Florida. He swims for the Sarasota YMCA Sharks and recently helped the Riverview High School men's team win their fourth consecutive Florida state championship. He is interested in pursuing a degree in Economics because "Princeton's academic excellence and undergraduate focus is just what I am seeking." Firlie felt the team displayed a passion for excellence and teamwork, and that the coaches were driven to help the students perform at their best in and out of the water.
Best SCY times:
200 Freestyle: 1:38.03
500 Freestyle: 4:25.32
1000 Freestyle: 9:18.35
1650 Freestyle: 15:40.54
100 Backstroke: 50.32
100 Butterfly: 50.55
200 Butterfly: 1:50.94
Miguel Jacome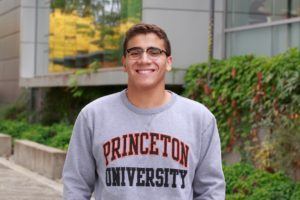 "I'd like to thank all of my coaches, friends, family members, teachers, and all the other people who have helped me get to this point in my life. I'm extremely excited to spend my 4 college years at Princeton. Go Tigers!"
Jacome, from Issaquah, Washington, swims for the King Aquatic Club after spending several years swimming for Lancaster Aquatic Club. A senior at Eastside Catholic High School, he is interested in exploring as many departments as possible while at Princeton. Being a liberal arts school, Princeton offers over 90 areas of study that can be pursued in the form of majors, concentrations and certificates. Jacome reported that the men's swim team is "focused and motivated on not only trying to become better swimmers, but to also become the great people that they want to be for the rest of their lives."
Top SCY times:
200 Freestyle: 1:38.36
500 Freestyle: 4:30.38
1000 Freestyle: 9:21.67
1650 Freestyle: 15:44.94
200 Individual Medley: 1:50.94
400 Individual Medley: 3:53.55
Raunak Khosla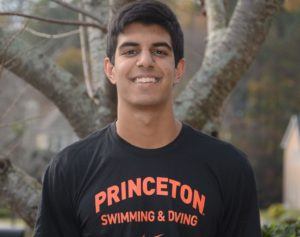 "My family has been instrumental to my success in the pool and the classroom; I could not have succeeded without their support. I would like to thank my coaches at Dynamo who motivated me and helped me become the swimmer I am today. I would also like to thank my teammates for pushing me in and out of the pool. Go Tigers!"
Khosla attends Milton High School in Alpharetta, Georgia and swims for Dynamo Swim Club in Atlanta. He would like to pursue a degree in either Economics or Operational Research & Financial Engineering while taking courses in departments related to science, technology, engineering and math. Khosla chose to apply early and accept admission to Princeton "because of the vast network of employers that provide Princeton students the opportunity to pursue internships all over the world. And, because the professors influenced my decision by being so knowledgeable and approachable!" In terms of the team, Khosla immediately felt at home with the team. "There are outstanding leaders on the team who help create a positive atmosphere. All the swimmers work hard and push each other. These aspects made me want to join Princeton Swimming & Diving and be part of their journey forward."
Khosla earned PBs in several events while swimming in the A-finals at Winter Junior National Championships in Knoxville, Tennessee. His best SCY times include:
100 Backstroke: 50.02
200 Backstroke: 1:49.00
100 Breaststroke: 56.11
100 Butterfly: 48.68
200 Butterfly: 1:46.99
200 Individual Medley: 1:46.95
400 Individual Medley: 3:52.91
Jonathan Pollock

"I'd like to thank my parents, coach, teachers, and peers. They've all helped me get to this position in life. Without their constant support and genuine care this would not have been possible."
Pollock swims for Nation's Capital Swim Club (West) and attends Thomas Jefferson High School for Science & Technology in Fairfax, Virginia. He is eager to study Engineering at Princeton because he "liked that the student body at Princeton represented a diverse group of people who are enthusiastic and motivated. With such amazing faculty and programs, I saw Princeton as the perfect opportunity to both develop myself as a student in the field of engineering and a swimmer in the pool." Pollock also observed that "the team is truly dedicated to their endeavors both in the pool and in the classroom," and noted that "their shared experiences have helped them become a close-knit group of guys." Pollock also mentioned that coach C. Rob Orr's system of priorities for a successful college lifestyle (academics, athletics and social life) matched his own vision for a rewarding college experience.
Top SCY times:
50 Freestyle: 20.50
100 Freestyle: 45.21
200 Freestyle: 1:38.18
500 Freestyle: 4:28.44
100 Breaststroke: 56.70
200 Breaststroke: 2:04.99
200 Individual Medley: 1:50.66
Colin Reilly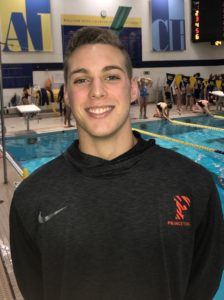 "I would like to thank everyone who has helped me reach this point in my life including my family, especially my grandfather, the administrators & teachers at Father Judge, and my friends. Go Tigers!!!"
Philadelphia, Pennsylvania-native Reilly attends Father Judge High School and swims for Penn Charter Aquatic Club. He is very excited to announce acceptance to Princeton University, noting "Princeton's focus on the undergraduate experience, emphasized by their impressive student to faculty ratio (5:1) sold the academic side of the university. And, the excellent coaching staff and competitive atmosphere between teammates sold the athletics."
Best SCY times:
100 Freestyle: 45.33
200 Freestyle: 1:40.72
100 Backstroke: 50.13
100 Butterfly: 49.18
200 Butterfly – 1:51.41
200 Individual Medley: 1:51.97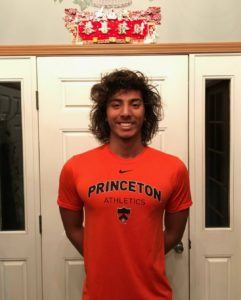 "This is a huge blessing for me and I'm honored to be in this situation. I'd like to thank all my coaches and teachers for helping me get to this point, many of whom have become mentors that teach me invaluable life lessons. More importantly, I'd like to thank my family. Without my parents and siblings, none of this would be possible. GO TIGERS!!!"
Singh, who is from Point Roberts, Washington and swims for the Winskill Dolphins Swim Club in Tsawwassen, British Columbia, has always dreamed of becoming an astronaut. The thrill of going where few or no one has gone before was exhilarating to him. Now, he proclaims that he has chosen to attend Princeton University "because it is an institution that will allow me to pursue my academic and career dreams whilst continuing to feed my passion for swimming. It is the perfect blend of academics and athletics!" Beyond the balanced student-athlete experience, Singh claims that the other factor that really influenced his college decision was the sense of family he saw at Princeton. "This family-like culture was made evident to me by the extensive alumni network, and because I noticed that the guys on the swim team were inseparably close friends. Everyone enjoyed doing the minutiae of daily life together and that team/family dynamic is exactly what I want to join!"
Top LCM times:
50m Freestyle: 23.45
100m Freestyle: 51.57
200m Freestyle: 1:54.31
100m Backstroke: 57.05
200m Backstroke: 2:06.32
100m Butterfly: 54.98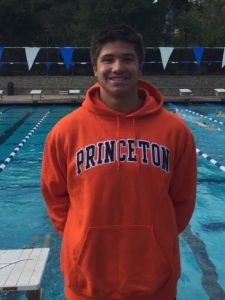 "First and foremost, I want to thank my parents and my grandpa, Angelo, for sticking with me along the way. I want to thank my many coaches, especially Coach Caleb and Mr. Rogers, for their time and patience. Lastly, I want to acknowledge all my friends both young and old who were there for me and cheered me on, even when I wasn't at my best. They kept me going when the going got tough."
Yates, from San Jose, California Yates attends Bellarmine College Preparatory and swims for Palo Alto Stanford Aquatics. He is looking forward to expanding his horizons at Princeton by taking courses in Mechanical and Aerospace Engineering while also continuing to learn about the Classics and the Latin language. Yates cites the expansive support system that Princeton offers including office hours with professors, peer tutors, internship advocates, career mentors and residential college advisors as major reasons for his decision to go to Princeton. Added Yates: "the fact that the professors are extremely focused on undergraduate academics makes Princeton's educational model very special, and one that promotes student success both in and out of the classroom. I knew that Princeton has been recognized as an academically prestigious school, but it was the devotion to community and interpersonal connection that brought to light why Princeton's educational experience is so highly regarded."
In terms of the swim team, Yates was appreciative of how the team made him feel as if he were at home. "They took great care of us visitors and each other. They didn't watch out for just themselves, but they scanned the team as a whole and made sure everyone was included and felt valued. On the competitive side, the Tigers are extremely driven to improve and perform well as athletes. They put in lots of effort each day with the belief and expectation that it will pay off at the end of the season. Being such a caring and driven team made it one I knew I could join, contribute toward the team success and be part of a lifelong family."
Yates recently updated his PBs in several events with his A-final finishes at Winter Junior Nationals West. His best SCY times include:
50 Freestyle: 20.24
100 Freestyle: 44.67
100 Backstroke: 49.06
100 Butterfly: 47.72
Max Walther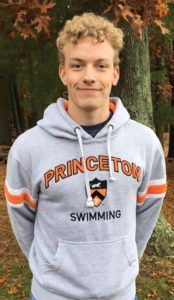 "The Princeton's Men's Swimming and Diving Team seemed like one big family. All of the guys were nice and full of passion for the sport. I immediately felt included and can't wait to be a part of this great group!
"I'd like to thank the Red Bank YMCA coaching staff for all the time they put into making such a great team, my teammates for all their help in and out of the pool, and my parents for always believing in me. GO TIGERS!"
Sea Bright, New Jersey's Walther attends Shore Regional High School and swims for the Red Bank Aquarockets YMCA. He intends to study Chemistry and Computer Science at Princeton. Walther indicated that the academic opportunities that Princeton offers are incredible. "Hearing from the team about their summer internships and research projects amazed me and makes me very excited to attend Princeton next fall."
Top SCY times:
50 Freestyle: 20.88
100 Freestyle: 45.57
200 Freestyle: 1:41.89
100 Butterfly: 49.94