Swimming Gear news is courtesy of Keifer, a SwimSwam partner.
Kiefer's Core Board brings new variety to training in an alien looking shape that is fueled by functionality.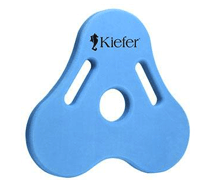 Veering away from the traditional tombstone design the Core Board has a wider base providing much needed relief from shoulder pressure while engaging core muscles. The narrow design of a standard board compresses the shoulders and creates strain in the upper back and neck. The Core Board helps to correct alignment by bringing your arms beneath the surface and pulling in your core to stabilize position.
Flip this board vertical and you have one vicious training tool. The expanded base and center hole make this board perfect for resistance kicking. The deeper you hold the board under, the harder it gets. Amp up the challenge by adding fins.
The core board also doubles as a dryland mat to prevent deck burn on your knees, elbows, and back. It can even be used as a water bottle holder during a long kick set!
Visit www.Kiefer.com to find out more about the Kiefer Core Board.

The Kiefer Company was started in 1947 by Adolph Kiefer, Gold Medalist in the 100M Backstroke at the 1936 Berlin Olympics and "Father of Swimming" in the USA.
Today the Kiefer Company develops and distributes performance gear for aquatic facilities, competitive and fitness swimmers and lifeguards. For more information on the Kiefer Company, the products we sell and our founder, go to our website at www.kiefer.com.