Thanks to Judd Cribbs for contributing this story to our Never Too Old To Dream Series.
It's now been four months since I started getting back into shape, and I feel like I can swim farther and stronger. Not far and strong, mind you, but farther and stronger.
The past month has presented some obstacles, not the least of which was some delicious holiday home-cooking.
My family traveled to Ohio for Christmas, and I worked out a couple times at my in-laws' local indoor rec pool. It was the first time I wore my new swimsuit. It's one of those square-leg suits. I bought it because jammers seemed too long and briefs seemed too, well, brief. I liked the feel of the suit in the water. I had been swimming in bulky board shorts and a t-shirt at my local pool to increase drag. It seemed to help when I switched to the new swimsuit.  I wanted to debut it in a place where absolutely nobody knew me. And I'm glad I did because one word came to mind when I saw myself in the mirror: Diet.  It simply didn't matter at what angle I viewed myself.
They did have a nice big clock at the Ohio pool, and I was able to time myself at about 15 seconds for 25 yards. I was pretty gassed after one length, but I was able to do about 10-12 lengths at that speed with quite a bit of rest in between each length. I tried not to let my progress translate into an all-you-care-to-enjoy binge once I got back to my in-laws' condo.  But I was just so darn hungry and there was fresh homemade apple pie, so, well, you know.
Once I got back home to chilly Florida, the next challenge was the weather. I'll admit I am a CWCB (Cold Water Cry Baby). By Florida standards, it was just plain frigid (55 degrees). On two of the days I was going to swim, I went running instead. I used to run a lot. My joints immediately reminded me why I switched to swimming. It was good, though, to get in some cross-training.  I have also been lifting weights and riding my stationary bike on days I don't go to the pool.
I think I'm going to set four goals for 2016: 1. Buy a swimcap (easy), 2. Learn how to dive properly (medium), 3. Try to hit 30 seconds for 50-yard freestyle (hard), and 4. Eat fewer cookies (hardest).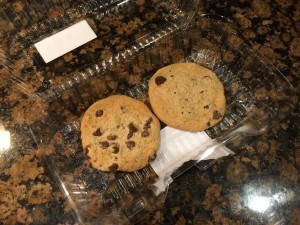 As with any new year, I'm not sure how it will go. The pool awaits.  The diving platform beckons. The cookies stare at me mockingly.