The Nation's Capital Aquatic Club, NCAP, led the scoring in the USA Swimming Club Excellence Program for the 3rd-straight year, amassing nearly twice-as-many points as the next-closest club, Marlins of Raleigh, in this year's rankings. NCAP is a massive club with 12 sites in two states (Maryland and Virginia) plus the District of Columbia and is home to the world's best active swimmer, Katie Ledecky, as well as fellow National Team member Cassidy Bayer and National Junior Team swimmer Sam Pomajevich
The rankings only include 18 & under swimmers and gives points scores based on a power point rating system that gives a swim points based on how fast it is relative to a swimmer's age. Those swims achieving a gold or silver standard receive bonus multiplier points: gold swims are multiplied by 2.0, silver by 1.5.
The top 20 clubs will be able to recognize themselves and publicize themselves as USA Swimming Gold Medal clubs for the next year. The 20 clubs represent 16 different LSCs.
The #2 club in this year's rankings, the Marlins of Raleigh, made a huge leap from 14,000 points last year to almost 46,000 this year. This was MOR's first time achieving a gold medal in the 16 year history of the program. Fort Collins Area Swim Team, Lakeside Aquatic Club, and Northern KY Clippers also made their first-ever appearances on the gold medal list.
As one North Carolina club, MOR, charges up the rankings, SwimMAC Carolina, historically a fixture as a gold medal club, only achieved silver status this year. While they had the second-most points, they didn't meet the specific requirement of having any swimmers achieve a gold standard – which is a requirement to achieve gold status. Those gold medal times are set equal to 150th ranked swimmer in the world for the prior year for women and 200th in the world for the prior year for men.
Only swims achieved when swimmers were 18 & unders (at the time they were representing the club), and swimmers who haven't begun their freshman year in college as of August 31st are eligible. So, clubs like the Gator Swim Club, which are also affiliated with a university program, won't get the benefit of those university swimmers who represent the club in USA Swimming competition.
Results are not adjusted for club size.
Time standards: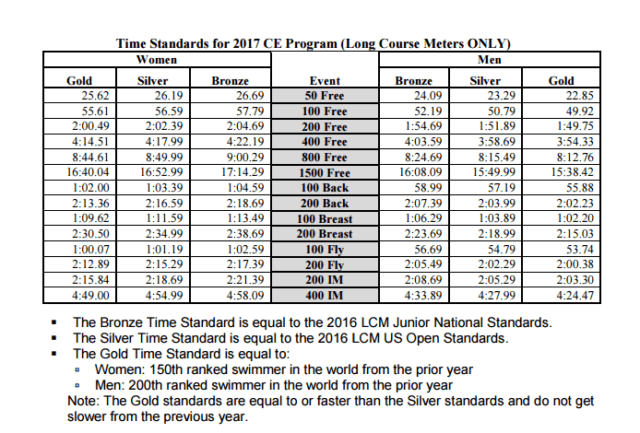 The program provides grant funding to teams in the gold and silver level clubs that will total $450,000.
Additionally, teams that achieve a gold medal ranking for 4 consecutive years will be named to the Podium Club. Those clubs will equally divide an additional pool of money among themselves.
Podium Clubs:
Aquazot Swim Club
Bolles School Sharks
Dynamo Swim Club
Lakeside Swim Team
Nation's Capital Swim Club
North Baltimore Aquatic Club
Sarasota YMCA Sharks
Gold medal clubs:
| | | |
| --- | --- | --- |
| Club | LSC | Points |
| 1. Nation's Capital Swim Club | Potomac Valley | 89,635 |
| 2. Marlins of Raleigh | North Carolina | 45,915 |
| 3. Dynamo Swim Club | Georgia | 44,500 |
| 4. Carmel Swim Club | Indiana | 43,768 |
| 5. Sandpipers of Nevada | Southern California | 38,245 |
| 6. Sarasota YMCA Sharks | Florida | 36,369 |
| 7. North Baltimore Aquatic Club | Maryland | 34,084 |
| 8. Lakeside Swim Team | Kentucky | 32,083 |
| 9. Nitro Swimming | South Texas | 31,997 |
| 10. NOVA of Virginia Aquatics | Virginia | 30,808 |
| 11. Aquazot Swim Club | Southern California | 30,759 |
| 12. Fort Collins Area Swim Team | Colorado | 29,820 |
| 13. Scottsdale Aquatic Club | Arizona | 28,790 |
| 14. Lakeside Aquatic Club | North Texas | 28,004 |
| 15. Northern KY Clippers Swimming | Ohio | 27,037 |
| 16. Nashville Aquatic Club | Southeastern | 26,609 |
| 17. Pleasanton Seahawks | Pacific | 26,444 |
| 18. Mission Viejo Nadadores | Southern California | 25,533 |
| 19. Bolles School Sharks | Florida | 24,814 |
| 20. Gator Swim Club | Florida | 24,577 |
Silver Medal Clubs
Bronze Medal Clubs