As Wisconsin high school swimming hurtles toward the 2017 state meet, WISCA released its latest ranking on Monday. The same two teams that have been #1 in every ranking this season remain #1 and will head toward Sectionals as prohibitive favorites to defend their state titles. Middleton in D1 (big schools)  won the Big 8 Conference last weekend, though Classic 8 Conference champions Arrowhead narrowed that lead to just 52 points – the narrowest margin of the season. Cedarburg, winners of the North Shore Conference over the weekend, swapped positions with Arrowhead in the latest pole and now sit at #3. All three schools swim in different Sectional meets, meaning that they won't face until the state meet on November 11th at the University of Wisconsin Natatorium.
In Division 2, Madison Edgewood extended their lead to 131-points over 2nd-ranked New Berlin Eisenhower (556-425) in the latest poll. Whitefish Bay held on to #3, but Tomahawk moved up to #4 after a strong Great Northern Conference meet win last week. DeForest holds down the #5 spot. The top 4 teams are each in a different of Wisconsin's 4 sectionals. The biggest sectional collision is #5 Deforest, who sit in the same Section as Madison Edgewood.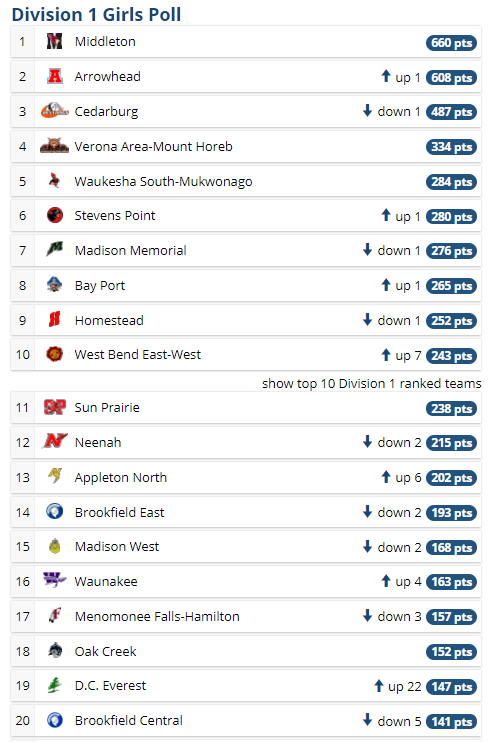 RANKINGS METHODOLOGY
The weekly WISCA polls are computer generated and based on the WISCA Top Times database.
The polls are generated at midnight each Sunday. Individuals are scored in their top two scoring events only.
Points are awarded as follows:
Individuals: 1st Place – 30 points – 30th Place – 1 point (1 point increments)
Relays: 1st Place – 60 points – 30th Place – 2 points (2 point increments)