Summertime and "open swim" is fast approaching. It seems as if coaches and swimmers are always competing for lane space. Whether they are constricted by running multiple groups at the same time or by activities set forth by the managing aquatics facility, there never seems to be enough room. Even one additional lane would make a world of difference to these teams and their athletes. There are a lot of things that the FINIS Turnmaster Pro is not. For instance, it is not a bigger pool that will magically ease tensions between coaches and pool officials for space. It is not a wall made of hard cement and metal. It is, however, a lot of things on its own.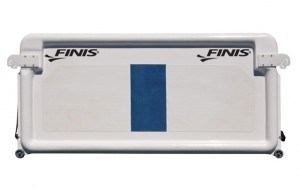 The Turnmaster Pro is a portable wall that you can take in and out of the water and adjust the length of each lane space. It is made out of a chlorine-resistant fiberglass material that is incredible sturdy and durable in the water. It is also easy to maneuver outside of the water, as it comes equipped with wheels for transportation to and from the pool. Once the unit is placed into the water it is anchored to the lane ropes at six different points, a process that can be completed in less than five minutes.
With the growing influence of turns and underwater work, you can now provide a fast and dynamic course for your swimmers come taper time. Putting the Turnmaster Pro at halfway allows for multiple swimmers to perfect their turns and breakouts at the same time, as you can use both sides of the pool. You can also try putting it in at 17 meters or so and work a dive into a one-stroke breakout and turn. Truly, the uses for this training tool are as endless as your imagination.
The Turnmaster Pro comes in four sizes to best fit the size of your pool and is also sold with a 5-year warranty. We not only believe that the Turnmaster Pro will help solve some of your issues with spacing at the pool, but also that your swimmers will become faster and more efficient in and out of their walls. Join the leaders and give your swimmers the opportunity to perfect their turns and their transitions into the very critical "5th stroke", or underwater kick. Just another way that FINIS is helping you to Swim Better, Swim Often, and Train Smarter.
Please view this brief video for more examples of its use: TMP Video
Be sure to "Like" us on Facebook: http://www.facebook.com/finisinc  and follow us on Twitter (@FINISswim)!
**The 2012 London Olympics were good for Coach Jeff Pearson, as two of his Sierra Marlin alums brought home medals from the summer games. To accommodate his growing family Jeff took a leave of absence from coaching club swimming, which may have been the best thing to ever happen to fitness swimmers around the world. His website Boost Swimming now offers a daily workout to anyone who wishes to stop by, at no cost. He also writes a detailed description of his ideal approach to the workout, including how it fits into the training cycle. Check out Jeff's work on Boost Swimming's "The Daily Swim" to experience this invaluable service!