Courtesy of Sheeva van Gemeren and Annie Babicz, co-founders of Lo Swim.
We are not business students. We are not models. We are not photographers, nor are we publicists. We are not salesmen, designers, or IT professionals. WE ARE SWIMMERS. Our company, Lo Swim, was born out of a love of swimming.   Everyday, we are outside of our comfort zone. Camera shy, we pose. Patiently, we design. Passionately, we grow the business.
Our names are Sheeva van Gemeren and Annie Babicz. We are the founders of Lo Swim – an athletic swimwear company founded in 2009. We had two very different paths in the sport of swimming, but our experiences and love for the sport feed our daily passion. As swimmers, we became accustomed to being outside of our comfort zone- quivery legs during a kick set, putting on an icy wet suit during hell week, seeing stars during a hypoxic set. It's what swimmers do, and it's what we do at Lo Swim.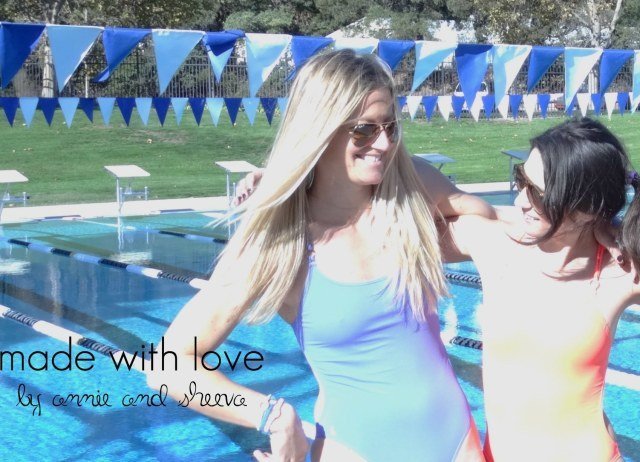 Sheeva is not 6 feet tall and 150 pounds. She never had a natural feel for the water nor a strong cardiovascular system. But she was voted Captain of the UC Davis Division I women's swim team. Her teammates were naturals, and every year she fought for her spot on the team. On paper it may not look like she had a lot going for her, but her passion for swimming has always gotten her farther than most talented people.
Annie, on the other hand, is still regularly asked if she is a swimmer after 7 years of retirement. She was voted Rookie of the Meet at US Nationals as a 12 year old alongside Ryan Lochte. She was a member of the National Junior Team, and was known to her hometown of Sarasota, Florida as "Amazing Annie". She was, by all accounts, a natural. Behind her talent, was a fierce love for the sport, and after the easy, youthful successes faded, she put in the work to make her a contributing member to four top 5 NCAA teams for UC Berkeley.
Despite these differences, we bonded over our shared goal to bring a new look to the world of athletic swimwear. We never had suits that could function during a main set and simultaneously make us feel good about what we were wearing. We were constantly tying, cutting, and readjusting our suits. So, five years ago we cut up our old suits and made the first prototypes which embodied what our company stands for: durable, well fitted, designer-inspired suits for swimmers, by swimmers.
We do not have funding or expertise on our side, but we have a lot of love for what we do. We chose this path so that Lo Swim can provide female swimmers with products that amplify the amount of girl power on deck. If we weren't swimmers, we would not be where we are today – and this journey is something we believe only swimmers can understand.