Swimming News is courtesy of Helen Gorman / blueseventy, a SwimSwam partner.
One of the world biggest masters events starts tomorrow in Sheffield, UK – one of the fastest short course pools on the planet. The ASA Masters champs features swimmers over 1000 swimmers from age 18 to 87, including Olympians and current national team members.
Here are a few highlights we noticed ahead of the meet…
Lauren Quigley, 19, a double Commonwealth Games silver medallist is set to swim in the 100m freestyle on Friday evening. Her entry time of 54.33 makes her fastest by nearly four seconds and demonstrates that she's not 'just' a world-class backstroke swimmer.
Sue Halter, a London 1948 Olympian has the honour of being the 'most experienced' swimmer at the meet. The 87 year old represented Hungary in 1948, but she clearly loved London as she's lived and trained with Camden Swiss Cottage team for many years.
At age 86 Edward Hoy is the oldest male swimmer at the meet.
1980 Olympic medallist Margie Kelly is undertaking her first 200m breast stroke for many years. She's also doing the 50m and 100m breast stroke. She set a European record on the 100m earlier this year.
The women's breaststroke events feature British record holders of every age group record from 25-29 up to and including 70-75.
Steve Mavin vs Ben Harkin. The former seems to have based most of his entry times within the nearest 0.01 of the latter as the pair battle for records and titles in the 35-39 age group.
Elite triathlete, Richard Stannard, returns to the men's distance events. The former Loughborough University 200m freestyler has represented the Great Britain triathlon team for 16 years. He holds the 35-39 national records in the 200m, 400m, 800m and 1500m freestyle but this is his first year in the 40-44 age group and records may be under threat.
Six of Britain's FINA world masters gold medal winners from this summer in Montreal will be competing this weekend – David Cumming, Diane Ford, Patricia Jackson, Nicola Latty, Sally Shields and Judy Wilson,.
Jane Asher, arguably Britain's best masters swimmer, won't be in Sheffield. She's opted for an open meet in Barbados instead…
Expect lots of records, and follow all of the results here: http://www.swimmingresults.org.uk/masters/results/2014/asama14/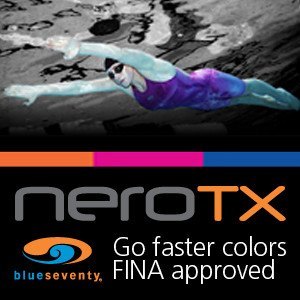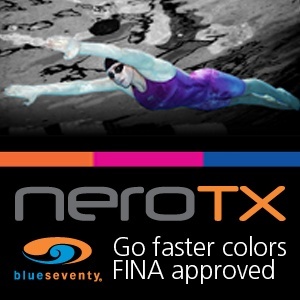 Aptly named to suggest 70% of the earth is covered in water, blueseventy is the world leader in the pool, triathlon and open water wetsuits and swimskins. Since 1993, we design, test, refine and craft products using superior materials and revolutionary details that equate to comfort, freedom from restriction and ultimately a competitive advantage in the water. blueseventy products have instilled confidence in beginners as well as carried world-class athletes to countless Olympic and World victories.
For the latest news and blogs from blueseventy visit www.blueseventy.com.
Instagram: @blue_seventy 
Twitter: @blueseventy  
Facebook: facebook.com/blueseventy 
Courtesy of Helen Gorman/Blueseventy, a SwimSwam partner.