For more commitment articles, be sure to check out SwimSwam's College Recruiting channel.
Ryan Wochomurka continues to make a swift and immediate impact in his first recruiting cycle as the head coach of the Houston women's swim team.
After getting a verbal commitment from Zarena Brown, who should take the distance group to new heights, Wochumurka has begun to hit his sprint groups with his two latest commitments.
Hanna Blewett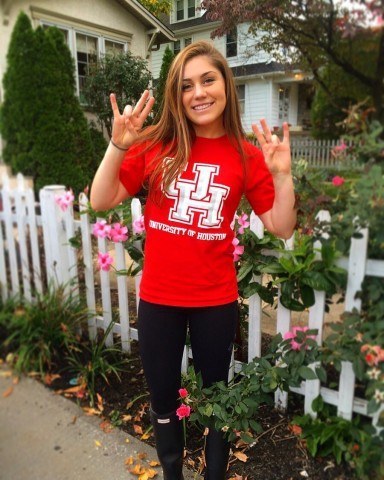 Blewett, who comes from the Radnor Aquatic Club and Cardinal O'Hara High School in Pennsylvania, is primarily a sprint freestyler.
Best times in yards:
50 free – 23.90
100 free – 52.23
200 free – 1:55.48
"Although Houston is long way from Pennsylvania, I felt it was a great opportunity for me to perform/succeed in both the classroom and the pool," Blewett said. "The coaches and the girls on the team made me feel like it was the perfect fit and I'm excited for what Houston has to offer!"
"When coach Ryan Wochomerka reached out to me I started to research UH.  Everything I read was exactly what I was looking for in a school. Once I visited, I knew it was the right choice because I felt like I was home."
Blewett says that one of the big influences on her decision was the fastest 100 yard butterflier in history: Kelsi Worrell.
She says that Worrell gave coach Wochamurka a glowing review.  Hanna and Kelsi will now share two coaches in common: Ryan coached Kelsi at Louisville the past 3 years and Kelsi was coached at Jeresey Storm for her 4 years leading up to Louisville by Garrett Clark – now the head coach of Blewett's club.
Emily Longfellow
Longfellow also has some sprint freestyle abilities, but will have a bigger impact for the Cougars in the backstrokes and the 200 IM, given her versatility. Her best season to date was her sophomore year of high school, which included all of the lifetime bests below aside from the 200 back:
100 free – 52.74
200 free – 1:53.99
100 back – 56.79
200 back – 2:06.90
200 IM – 2:06.27
During her junior season, Longfellow did some work to expand her proficiency into longer races. Her best times in the 500 free, 200 back, 200 breast, 200 fly, and 400 IM all came during her junior season. At her core, though, Longfellow is still more of a sprinter than a middle-distance swimmer.
Longfellow swims for Star Aquatics in California and Redlands East Valley High School.
Impact on the Cougars
On paper, Houston has a logjam of young 51 and 52 second freestylers lined up for the 2016-2017 season. One would expect, if the Cougars have anywhere near the success as Wochomurka's Louisville teams did, that 52's won't be enough to make the team's 400 free relay at the end of the freshman years of Longfellow, Blewett, and Brown, so for all three, it's going to be about development.
Right now, this program craves depth at every spot, however, and for that reason, Longfellow especially should be a big move for the Cougars. At a dual meet level, she will be better-than-replacement in nearly every collegiate event.
At the AAC level, Longfellow projects to be a three event scorer and Blewett at least a two event scorer. In the near-term, the Cougars will take what they can get coming off of a last-place finish at their conference meet last season, but in two years, both swimmers are well within range of qualifying for A-Finals at that meet.
If you have a commitment to report, please send an email to [email protected].