Courtesy of Shawn Blatt
I ended my swimming career in 1986. I remember climbing out of the pool after the consolation final heat on the last day of NCAA's and just standing there, realizing that was it. There would be no more swimming. I hung up my suit and never looked back. I had had enough.
And I didn't miss it. I didn't miss morning workouts, or long, exhausting practices or being sore and beat up after dryland. Did I mention I hated morning workouts? I was burned out and ready to live a different life. As the years went by, I adjusted to life without swimming. I enjoyed the freedom and never really missed being in great athletic shape. For the next 30 years, I managed to concentrate on a career, applying the same dedication and obsession that I had previously reserved for swimming.
I would get in and swim a few laps now and then when the opportunity presented, but going back to actually "practicing" swimming, and training for meets didn't appeal to me; my memories were of the hard, difficult workouts and the misery of getting out of a warm bed at 4:30 a.m. to swim.
Then, about 4 years ago, my sister (who is a master swimmer) called and asked if I wanted to swim the Big Shoulders U.S. Masters open water 2.5k swim in Chicago. I thought about it. Even though I hadn't been swimming for almost three decades, I stayed in relatively good shape. I jogged now and then and walked the dog every morning. I would try it- after all, how hard would it be to swim 2,500 meters in a lake?
I wasn't completely naïve. I knew I needed to do some swimming, just to get in some kind of shape. So I began swimming at my local club pool, getting in about 800-1000 yards a day. I managed to do that 2-3 times a week for a few weeks before the swim. I felt pretty good in the pool, and the years of being out of the water didn't seem such a big deal. I was ready.
The morning of the swim was beautiful. Clear and not too windy. The water was very cold, but not too frigid that you couldn't get used to it. My sister and I were all in the same wave of older swimmers. They start you in the water, and then a horn sounds and everyone goes off in one mass.
I saw my sister, a dedicated master swimmer, take off in front of me. I started out, setting my sights on the first pylon for the turn. Things were fine for the first 500 yards. Then, the piano dropped and the 30 years of idleness kicked in. I realized I was going to have to battle my way through the waves and the course changed from a pleasant 2,500 meter swim to a harsh lesson in survival.
As I cleared the first turn, I was heaving and turning almost on my back to get a breath. My arms were getting numb and I struggled to look for the next pylon, which appeared to be another 2 miles away. It didn't help that the first wave of 5K swimmers were also in the process of lapping me as if I was standing still. Watching them go by, I could only think "I used to be that good".
By the time I turned for the home stretch back to the beach, I was cramping up and unable to see anything. I just wanted this over. I concentrated on moving one arm in front of the other and plowed my way toward the finish.
Finally, I hit the beach and stumbled through the finish gate. After clearing the gate, I saw my brother–in-law standing nearby taking photos. "Hey", I said, gasping for air, "did she finish yet?. " He laughed. "Oh, yeah" he said. "She's been done for fifteen minutes".
And with those words, the reality of what had become of my swimming abilities sunk in. I had the depressing realization that I was old, out of shape, and would probably never be able to swim again.
Of course, later that day, we agreed we would try it again next year.
A few weeks later, the sting of that effort was still with me. I decided to start swimming again with the local master's team. I knew it would take at least a year to get in any kind of shape, but I felt that I needed to try. I decided that if I hated it, and it became a grind, I would quit and give up on the idea.
I haven't regretted a minute of my decision. I have rediscovered what I loved about swimming, before it became a chore and a grind. The practices are fun, with a group of people who want to be there. I actually enjoy training and working out more than competing.
The stress relief that a hard practice provides is incomparable. The only problem is trying to find the time to get to practices. If I could, I would swim every day. Maybe someday I will. Just not morning workouts.
So to every former swimmer who has ever thought about getting back into it, I say- go for it. You won't regret the decision. It is a sport that you can do for the rest of your life and the physical and mental health benefits are unsurpassed. Plus, you get to meet lots of new people who share your love of the sport.
If you're on the fence, and you talk about getting back to it, and have the best intentions, stop talking about. As Johnny Unitas would say when asked for some sort of inspiring words before a game, "Talk is cheap, let's go play."
So stop talking about it; stop intending to get to it. Just do it. To paraphrase "Talk is cheap, lets go swim!"
About Shawn Blatt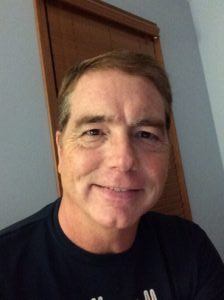 Shawn is a practicing attorney in Dayton, Ohio and is married with a son who is an age group swimmer.  Shawn swam with the Dayton Raiders Swim Club and then with Auburn University in college. Shawn currently swim with the Dayton Area Sharks masters team.