2016 Iowa Girls State Championships
Hosted by Marshalltown YMCA
November 4th-5th, 2016
Short Course Yards
FINAL TOP 5 TEAM SCORES:
Ames- 341
Johnston- 197
Bettendorf- 189
Waukee- 170
Muscatine- 131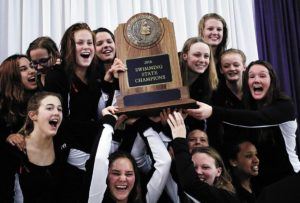 The Ames High School girls ran away with the 2016 Iowa High School Girls State Championships, collecting 341 points to earn their 6th state title of the last 7 years. A close battle for 2nd place behind them saw Johnston High School take silver with 197 points. Bettendorf High School finished narrowly behind them, rounding out the top 3 with 189 points.
Ames' Sophie Sorenson led a 1-2-3 sweep for her team in the girls' 100 backstroke, defending her state title in the event with a 54.61, which tied her own State Record. Her teammates Sarah Bell (56.79) and Jazlyn Horras (57.08) followed behind her for an Ames sweep of the medals, taking 2nd and 3rd respectively.
There were 3 swimmers under the previous State Record of 50.40 in the 100 free final, led by Lewis Central's MyKenzie Leehy, who owned that previous record. In gold-winning fashion, Leehy swam to the wall with a new State Record time of 50.29. Following closely behind her were Ames' Amy Feddersen (50.34) and Muscatine's Sarah Schemmel (50.39), who took 2nd and 3rd respectively.
In addition to her 100 freestyle victory, Leehy was also the gold medalist in the 200 free at the beginning of the meet, where she touched the wall in 1:49.94. Schemmel, the 100 free bronze medalist, was also an event winner earlier in the session with her 23.11 in the 50 free.
Johnston's Lexi Horner was a double event winner, bringing home golds after her performances in the 200 IM and 100 breast. In the 200 IM, she built a full second lead to win the race in 2:02.31 over Ames' Sorenson (2:03.15). She then closed the meet with a win in the 100 breast, touching the wall in 1:03.75.
The Ames girls swept all 3 relays in their victory, setting 2 State Records to bookend the meet in the process. Their first State Record relay was the 200 medley, where the team of Horras, Molly Winer, Grace Snyder, and Sorenson combined for a 1:43.78 to get the ball rolling. They then ended the meet on another record-setting note, with Sorenson, Olivia Jenks, Morgan Rosser, and Feddersen racing to a 3:28.74.
Additional Event Winners:
100 fly- Kelsey Drake, Linn-Marr, 55.13
500 free- Berit Quass, Dowling Catholic, 4:58.50
200 free relay- Ames (Feddersen, Winer, Hegelheimer, Snyder), 1:34.88