Courtesy of Big Blue Swim School, a SwimSwam partner.
The swim school industry, which some estimates value at $3 billion, is a large but fragmented space. Currently, the largest provider in the industry accounts for less than 3% of addressable market share. But that picture is changing, as swim school franchise Big Blue Swim School continues to sign franchise agreements in markets across the U.S., positioning itself to become the leading player in industry.
Since launching its franchise opportunity in 2018, Big Blue Swim School has signed agreements to open 201 new stores across the country, and the franchise's development team is aiming to sign another 39 before the end of 2022.
What accounts for Big Blue's rapid growth? In large part, the franchise's appeal to investors comes down to ease of operations.
Big Blue's franchise model is highly efficient and semi-absentee-focused in structure, so investors can maximize their time and capital. The Big Blue team has worked hard to create a franchise opportunity in which the daily role of the franchise partner is optimized through staffing support, proprietary technology, and more.
Establishing Highly Trained Staff Through Extensive Training
Day to day, most of the work done at any Big Blue location is done by highly trained staff, hired by the franchise partner.
"Franchise owners are going to have a very responsive staff that is in charge of operations at the pool," said Dennis Campbell, Big Blue vice president of franchise development . "The owner is not going to be responsible for punching in and showing up for daily shifts. Their main responsibility is to empower the staff daily from the top down, working with the franchise operations team to make sure they are surpassing their targets in terms of growth."
Unlike other brands, Big Blue has a robust training program for its swim associates who receive competitive benefits. This helps Big Blue dramatically reduce turnover, whether it is the manager, associate manager, or swim associates, while also driving higher customer satisfaction.
Campbell continued, "We are big believers in hiring to the volume and training to the skill. We are lucky we can empower amazing swim associates, and we have a lot of clear lines of sight into how we staff a pool. We expect the owner to be involved in the process of onboarding the right employees so that the retention is high, and everyone will enjoy the benefits of a great place to work. Luckily, it is not hard to have fun when you are teaching swim lessons all day and dealing with a lot of great people in the community."
Second-to-none Proprietary Technology Helps Operations Run Smoothly
Once the right staff is hired, Big Blue sets its franchise partners up for success with its proprietary, cloud-based, enterprise software LessonBuddy™. The technology solution makes it easy for parents to fit swim lessons into their lives, allowing multi-child families to schedule and reschedule lessons with the swipe of their finger.
Through LessonBuddy, Big Blue offers total convenience for the family with a breadth of scheduling options for busy calendars. With 2,000 to 3,000 lessons offered per week, multi-kid parents can easily schedule all their children to swim in the same 30- to 45-minute window. Plus, LessonBuddy offers parents the capability to track each swimmer's progress in real time
But LessonBuddy isn't just a helpful tool for parents; it's also an important tool to help franchise partners run efficient operations. The custom cloud-based platform is technologically superior to the software other concepts in the space use and is designed so franchise partners can operate successful stores without needing a daily, onsite presence. Franchise partners are able to manage their business through dashboards and KPIs, resulting in total transparency in terms of ROI and the health of the business.
"The technology that Big Blue utilizes really allows the franchise owner to appear near when they are far," said Campbell. "\We are able to really be there for our franchise partners as our technology helps us understand all their customers' habits and patterns. While many of LessonBuddy's benefits are customer-facing, it also provides a lot of help for the operations behind the scenes."
Inspiring Life Changing Moments and Smiling Customers
As Campbell points out, the brand is focused on ensuring each location is set up for the best possible pathway to success through critical services such as site selection, staffing, construction, technology, and marketing, allowing franchise partners to focus entirely on creating a positive and memorable customer experience.
"We want to make sure that the owner is really responsive with us, and that our core values are being met," said Campbell. "Franchise partners need to be building a culture within the pool where everybody is going the extra mile, so that customers are getting the most out of each and every lesson. It is the little things that make a big difference, and our customer-friendly facilities ensure that the franchise partner can focus on the families' experience in the building."
"Our facilities are designed to maximize comfort for both children and their parents," said Big Blue CEO Scott Sanders. "With 90-degree, ultra-clean water, we provide a very different experience from the neighborhood YMCA or community pool and is likely a radical departure from what the parents experienced in their own swim lessons. Plus, our relaxing viewing area comes with free WiFi and is managed for cleanliness, making it an enjoyable 30 minutes for parents."
For investors looking to be part of the next franchise success story, Big Blue has made running the business easy for entrepreneurs of any background. With expert brand leadership, a strong support infrastructure, and a turn-key business model, Big Blue franchise partners have the chance to be a part of the next franchise success story.
Multi-unit franchise opportunities are available for qualified candidates looking for their next big opportunity, and veterans can receive a 10% discount on the $80,000 franchise fee. The total investment necessary to begin operation of a new Big Blue Swim School is $2,334,223 to $3,641,998 (refer to item 7 in FDD) To learn more or inquire about Big Blue Swim School, visit https://www.bigblueswimschool.com/franchising/.
ABOUT BIG BLUE SWIM SCHOOL
Big Blue Swim School was founded in 2009 by competitive swimmer Chris DeJong. The first location opened in Wilmette, Illinois, followed by four additional Chicagoland schools. In 2017, Level 5 Capital Partners acquired a stake in the brand. Through that investment, Big Blue plans to grow through franchising to 150 pools by 2021. Big Blue Swim School's real estate expertise, strong brand, proprietary technology, and leadership support, coupled with its best-in-class consumer offerings, position its franchise partners for long-term success. To learn more about franchise opportunities with Big Blue Swim School, visit http://YourBigMomentStartsHere.com.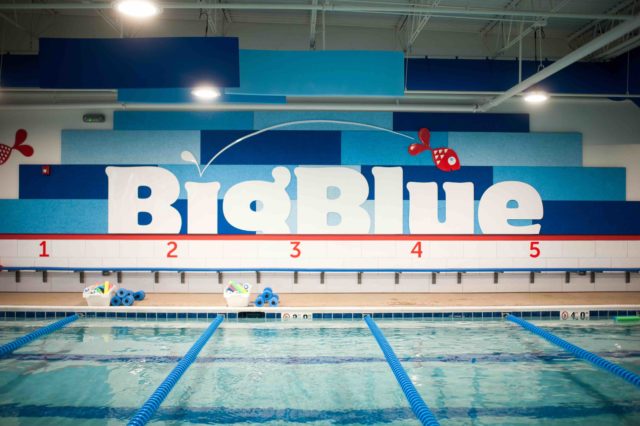 Big Blue Swim School is a SwimSwam Partner.