Courtesy of Brilliant Swim, a SwimSwam partner:
When Brilliant Swim launched its PaceWatch™ this past summer, James "Doc" Counsilman was credited with inventing the pace clock on which it was based. While the markings and features of the PaceWatch closely resemble the pace clock Counsilman created in 1959, it appears that the very first swimming pace clock may have been invented 13 years earlier in Australia.
Forbes Carlile, a pioneer in the world of swimming, created and installed "large 60-second pool clocks" at two pools in Sydney in 1946. Carlile, a protégé of Frank Cotton (the "Father of Sports Science" in Australia) was a lecturer in physiology at the University of Sydney at the time. He would go on to become Australia's most successful swimming coach.
Brilliant Swim founder Phillip Luebke reached out to the 92-year-old Carlile, to see if he could provide more insight into the creation of one of the most-widely used tools in the sport of swimming, the pace clock.
According to Carlile, the real revolution in 1946 wasn't the pace clock, but the way that they began training. Prior to World War II, most swim training consisted of swimming continuously at a relatively slow pace, and the distance covered per session was rarely more than a mile. In the 1940s, Carlile and Cotton had introduced a new way of training, where swimmers were required to make "efforts" over their race distance to swim even pace, and to measure their heart rates at the end of each swim.
Said Carlile, "Coaches didn't have enough hands to do this (for each individual swimmer), so it was obvious, in a squad there needed to be a pace clock continuously moving."
So, as with many inventions, the pace clock was born out of necessity. Carlile's solution was to create giant versions of the analog stopwatches in use at the time, clocks that could be seen by swimmers without getting out of the pool. His first clocks were one meter in diameter, and they had a single, second hand that ran continuously around the dial, with no controls.
While Carlile acknowledges that he likely created the first pace clock, he seems bemused at the idea that he invented it. To him, it was a simple, obvious solution. It didn't require multiple prototypes, and he didn't think it was worthy of a patent. He recalls that after they installed the clocks at the Palm Beach rock pool and the North Sydney pool, he started to see them appear around athletic tracks, but it didn't occur to him at the time that there might be a commercial market.
It wasn't until 1959, when James "Doc" Counsilman designed and sold his first pace clock in the United States (reportedly drawing his inspiration from track and field), that swimming pace clocks become available commercially. Today, pace clocks are found at pools around the globe. And now, when they can't be found, there's PaceWatch.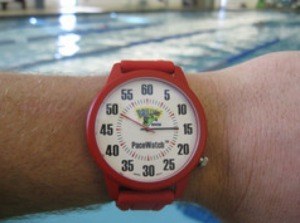 Brilliant Swim, based in Bozeman, Montana, was founded in 2012 with the goal of addressing previously unmet needs of swimmers, triathletes and their coaches. The company's first product, the PaceWatch, is a slim, wearable pace clock that is simple to use and easy to see, allowing swimmers to focus on their swimming.
Media Contact:
Phillip Luebke
Founder & Chief Swimming Officer
Brilliant Swim
+1-406-600-2771
[email protected]
Follow Brilliant Swim on Twitter here.