Good friends Jaycee Yegher and Michelle Owens have both committed to the application process at Harvard University.*
Michelle Owens
Owens swims for The Fish and is currently a senior at Langley High School in McLean, Virginia.
So excited to announce my verbal commitment to swim at Harvard!! Can't wait for these next 4 years!! #goCrimson ❤️❤️ pic.twitter.com/QBS6gazf4Y

— Michelle Owens (@mowens234) October 11, 2016
TOP TIMES (SCY/LCM)
200 free – 1:49.80/2:03.83
500 free – 4:52.71/4:18.10
1000/800 free – 10:01.07/8:49.60
1650/1500 free – 16:34.36/16:55.85
200 back – 2:03.59/2:21.38
200 IM – 2:04.96/2:19.64
400 IM – 4:23.71/4:56.59
Owens is an impressive talent, with an Olympic Trials cut in the 800 free and added prowess in the IM's. At the 2016 Virginia 6A Championships, Owens touched 3rd in both the 200 free and 500 free while anchoring both of Langley High School's free relays (24.25 and 52.17).
In terms of Ivy League conference salience, Owens will be an impact player immediately for Harvard. She would've finished 5th in the mile at the 2016 Ivy League Champs, and would've placed in the 200 free B final, 500 free B final, 400 IM C final, 200 IM C final, and 200 back C final. Additionally, with a sub-1:50 200 free, she'll be in immediate contention for a spot on Harvard's 800 free relay.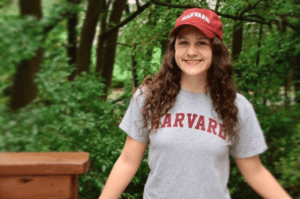 Yegher swims for Northwest High School in Germantown, Maryland, and Rockville Montgomery Swim Club. She is the Maryland 4A high school, county, metro, state champion and state record holder in the 100 breast, and a USA Swimming Scholastic All American.
TOP TIMES (SCY/LCM)
50 breast – 29.84/34.10
100 breast – 1:01.66/1:12.30
200 breast – 2:14.37/2:35.26
Yegher will add strength to an area where Harvard had little depth at the 2016 Ivy League Women's Championships. She would have scored third in the 100 breast, just 1/100 behind then-Harvard freshman Meagan Popp, the Crimson's lone finalist in the event. Yegher also would have been an A-finalist in the 200 breast, touching fourth behind both Popp and Geordie Enoch, now a junior at Harvard.
*IVY LEAGUE DISCLAIMER: A "verbal commitment" by a coach is not an offer of admission, as only the Admissions Office has that authority. An Ivy League coach can only commit his or her support in the admissions process.
If you have a commitment to report, please send an email to [email protected].