Courtesy of Julia Galan / SwimSpire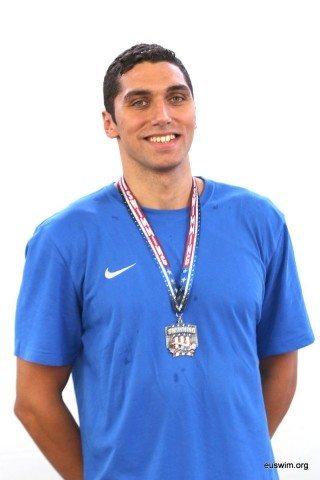 For Egyptian national team member Adham Abdelmegid, the sport of swimming has never been just about achieving top times or claiming victory at major championships. The 25-year-old, who has been swimming since the age of 4, is an accomplished world class athlete, with international victories at competitions such as the Pan Arab Games or the Islamic Solidarity Games, and national records under his belt. But the sport has also provided Adham with an opportunity to travel, to gain a global perspective, and to develop valuable life skills in the process, including the ability to balance athletics with a full-time career as an engineer. Adham's efforts in the pool have earned him a ticket to over 18 countries, including most recently the United States for the 10th anniversary of the EU Swim.
When I first met Adham at the YMCA Aquatic Center in Orlando, Florida, I was impressed by his dedication to the sport and curiosity about exploring the world around him through swimming. We sat down to talk about how swimming became a part of Adham's life, where it has taken him and how he balances the sport with his professional life.
JG: Tell us a little bit about yourself and your background. How did swimming become a part of your life?
AA: I've been swimming since I was 4 years old, so it has nearly always been part of my life. I have always experienced great joy being in the water, even when I was a little kid. It didn't take much to realize that I wanted to devote myself to the sport. Even now, at 25 and with a full-time job at a multinational engineering firm, I still remain at the top levels of swimming and am part of the Egyptian National Team.
JG: What does a typical training week look like for you?
AA: I usually swim 6 days per week, mainly in the morning before work, in addition to 2-3 dryland sessions per week. Depending upon my varied work location, I train either with the national team or on my own with my coach. The team ranges from 20 to 30 swimmers, and I enjoy practicing with them as much as I appreciate training one-on-one with my coach. We have access to both long course and short course meter pools – I tend to prefer short course!
JG: So, in addition to being a successful swimmer, you've also excelled in other areas of your life. How do you balance sports with your professional and personal life?
AA: I think that if you have a goal and you have enough determination, you can take on anything, and overcome any challenges and obstacles that might be in your way. I've prioritized my goals and now I focus on making sure that I have enough time to work towards those goals. I try to never get discouraged or derailed by what other people might say. Unfortunately, you'll always encounter people who will tell you that you can't reach your goals and that you'll never get anything from your hard work. But the key is to never, ever doubt yourself. Do what you love and you'll excel in it!
JG: Your parents also have an athletic and academic background. Can you tell me more about them? How have they helped support you through your journey?
AA: I come from a very sports-oriented family. My father was the head coach of the basketball national team and the dean of the physical education university in Egypt. My mother was also basketball player, my aunt was a swimmer and both of my brothers are swimmers, too. I am very fortunate to have my family's support. They've helped and encouraged me through every phase of life and I owe them a lot.
JG: What are some of your proudest accomplishments in swimming?
AA: Since 2004, I've been a member of the Egyptian national swimming team. I've never been prouder than to represent my country for so many years at every single Mediterranean, African, Arab and Islamic Championship. In fact, representing Egypt and traveling internationally is primarily what motivates me to continue swimming at a high level on a daily basis!
JG: What has been your biggest challenge or obstacle and how did you overcome this and move forward?
AA: One of the biggest challenges for any athlete is the need to balance every stage of your life – whether high school, university, or professional life – with swimming. You may also sometimes have to deal with outdated mindsets in those different stages of life. To overcome this, you have to be mentally tough. You have to have faith knowing that if you have the will, you will succeed. Swimming is also a great way to deal with all of the pressures and stresses that life gives you.
JG: You love traveling for swimming competitions. What countries have you visited thanks to your sport and what have you enjoyed most about your travels?
AA: Thanks to swimming I've had the chance to visit quite a few countries around the world. I've been to Ireland, Belgium, the Netherlands, Germany, Czech Republic, Luxembourg for the Euro Meet, Hungary, Greece, Turkey, Jordan, UAE, Qatar, Kenya, Congo, Morocco and South Africa. In the process, I've made so many friends! They all come from different countries and I've now known some of them for more than 10 years. That's pretty much the best part about my travels! I also really enjoy touring and discovering each city that I visit. I especially love exploring the history of each city – the stories behind the towns are often quite interesting.
JG: Orlando 2015 was your very first EU Swim experience. What did you like about the competition? Would you recommend it to other swimmers?
AA: The competition was awesome! I loved the great atmosphere, the friendly swimmers and wonderful organization. I would definitely recommend it to anyone.
JG: What are your short and long-term goals going forward?
AA: In the short term, I've got Egyptian nationals and in terms of larger goals we are looking forward to Olympic Trials and making qualifying cuts for the Olympic Games.
JG: What advice would you give to younger swimmers who are just starting out in the sport?
AA: Focus on your technique, not on how fast you swim. This is going to help you maintain your swimming at a high level for years to come. Be self-aware while you are swimming, and learn how to understand what you are doing and why. Have fun, never get disappointed – and dream big!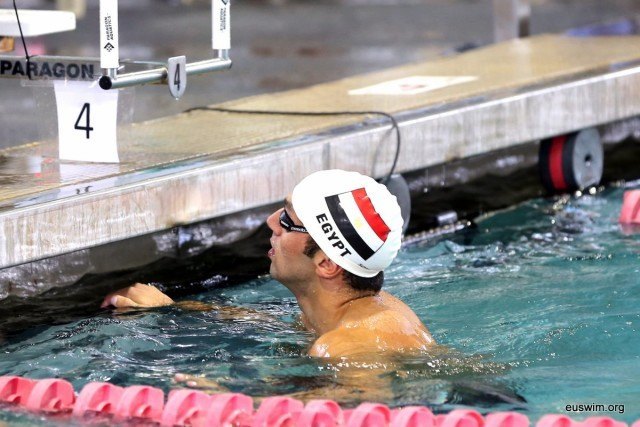 Thanks so much for your time, Adham, and best of luck in everything you do!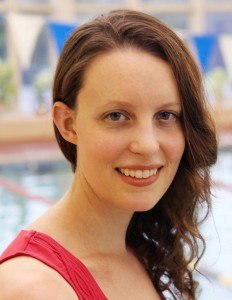 Julia Galan headshot, PhotoJulia Galan is a lifelong competitive swimmer and a USA Swimming and U.S. Masters Swimming coach. Julia's passion for the sport, for coaching and for writing led to the creation of Swimspire, a coaching and swimming inspiration source geared towards athletes of all levels and goals.