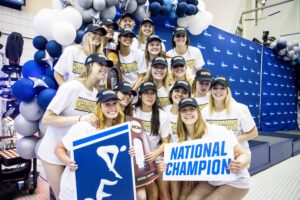 The Cavaliers are the massive favorites to three-peat as NCAA champions in 2023, bringing back the majority of their top scorers from last season.

Despite incurring significant losses, the Florida men have reloaded and appear poised to repeat as the third-place team at NCAAs for the third year in a row.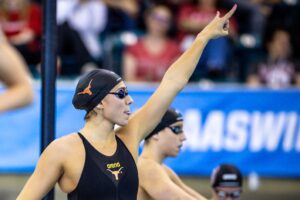 Bolstered by elite fly and diving, the Longhorn women have also added Lydia Jacoby and Dakota Luther and look ready to defend their #2 spot in the nation.

NC State has finished 4th at NCAAs for five of the last six NCAAs, and they bring back another strong freestyle group and dynamite relays once again.
More College Swimming Previews

28
Led by Claire Curzan, the Stanford Cardinal have an unmatched freshman class this season that will help propel them back into national title contention.

13
At the 2022 women's NCAA Championships, Bama finished fourth, marking the highest finish in program history.

3
Katharine Berkoff will once again be a driving force for the NC State women as they aim to move up from their fifth-place finish at the 2022 NCAAs.

10
Despite the losses, it looks like IU is in a stronger position this season than they were last season.

8
More top-ranked recruits have been heading to Louisville, and they've been making quick impacts at both the conference and NCAA levels.

23
After a breakout 2021-22 campaign that saw them record their highest finish in 40 years, the Arizona State men are looking even better this season.

7
Michigan had another strong showing in 2021-2022, finishing second at the 2022 Big Ten Championships and seventh at NCAAs.

6
Follow along here as SwimSwam's staff previews the top 12 men's and women's NCAA Division 1 teams as we gear up for the 2022-2023 college swimming season.