Tess Cieplucha, a member of the Canadian National Development Team, has verbally committed to the Tennessee Volunteers. This continues a trend of Canada's top junior swimmers crossing the border this fall, even in an Olympic year and with nationalism reigning and a Canadian team riding very high spirits after a successful summer.
---
Cieplucha's best times in long course meters/short course meters (and yards conversions).
200 free – 2:03.39 LCM/1:59.72 SCM (1:48 SCY)
400 free – 4:19.58 LCM/4:11.99 SCM (4:50 SCY)
800 free – 8:50.00 LCM/8:37.46 SCM (9;56 SCY)
1500 free – 16:47.84 LCM/16:49.73 SCM (16:32 SCY)
200 IM – 2:19.95 LCM/2:14.48 SCM (2:01 SCY)
400 IM – 4:46.54 LCM/4:41.75 SCM (4:12.37 SCY)
---
Chalk this up as yet another big distance regroup for the Volunteers this fall, though Cieplucha's addition is especially interesting in that it's a very American distance group. In fact, the Tennessee women's team only has one international swimmer – junior All-American Kira Toussaint, and even she spent two years in the U.S. at Florida Gulf Coast before coming to Knoxville.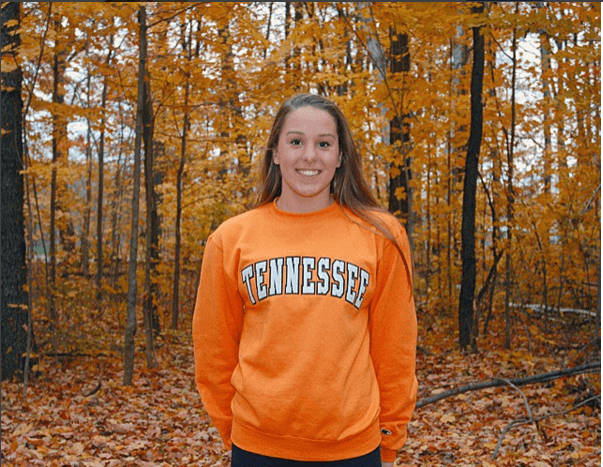 That's in contrast to the men's team, which has 5 internationals, and even then none in the distance group.
Interestingly, while her 50/100 aren't great, her 200 is fast enough that she should immediately jump onto the Volunteers' 800 free relay and make an appreciable impact.
She'll also reload a Tennessee distance group that is going to be very good in the 2015-2016 season, but is graduating some big names including Anna Demonte, Amanda Carner, and Lauren Driscoll.
Cieplucha placed 3rd in the 400 IM at this year's Canadian Championships, and 2nd in the 800.
Cieplucha swims at the Oakville Aquatic Club under Sean Baker. That's the same club that has produced a number of NCAA stars, including Evan White (Michigan), Mack Darragh (Missouri), as well as National Teamer Zack Chetrat domestically.