Disclaimer: BlueSeventy Swim of the Week is not meant to be a conclusive selection of the best overall swim of the week, but rather one Featured Swim to be explored in deeper detail. The BlueSeventy Swim is an opportunity to take a closer look at the context of one of the many fast swims this week, perhaps a swim that slipped through the cracks as others grabbed the headlines, or a race we didn't get to examine as closely in the flood of weekly meets.
At the CT Swimming Age Group Championships In Connecticut last weekend, the 13-14 girls of Swim Seventy combined to break state relay records in all 5 relay events.
All five relays won their events by wide margins, frequently shattering the prior state marks.
In the 200 free relay, Lily Kernaghan (13), Esme Hunter (13), Marissa Healy (14) and Megan Phelan (14) combined to go 1:37.96, breaking the CT record by almost half a second.
The 400 free relay saw Kernaghan, Healy, Hunter and Phelan combined again to go 3:33.70, taking four seconds off the state mark and winning by almost five.
In the 800 free relay, Samantha Kim (14) and Morgan Lenoce (13) jumped into the lineup, with Kernaghan and Phelan adding up to a 7:46.33 and another new CT record.
Hunter, Kim, Healy and Kernaghan manned the 200 medley relay in 1:47.17 (winning by almost five seconds) and the same foursome went 3:54.46 to win the 400 medley relay by a whopping 11 seconds, completing the 5-for-5 sweep of state relay records.
You can find full results from the meet here.
Aptly named to suggest 70% of the earth is covered in water, blueseventy is the world leader in the pool, triathlon and open water wetsuits and swimskins. Since 1993, we design, test, refine and craft products using superior materials and revolutionary details that equate to comfort, freedom from restriction and ultimately a competitive advantage in the water. blueseventy products have instilled confidence in beginners as well as carried world-class athletes to countless Olympic and World victories.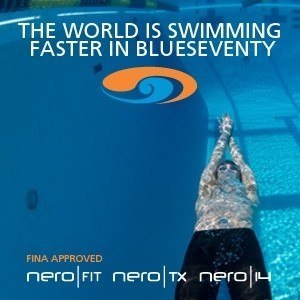 For the latest news and blogs from blueseventy visit www.blueseventy.com.
Twitter: @blueseventy 
Facebook: facebook.com/blueseventy
 Blueseventy is a SwimSwam partner.