Disclaimer: BlueSeventy Swim of the Week is not meant to be a conclusive selection of the best overall swim of the week, but rather one Featured Swim to be explored in deeper detail. The BlueSeventy Swim is an opportunity to take a closer look at the context of one of the many fast swims this week, perhaps a swim that slipped through the cracks as others grabbed the headlines, or a race we didn't get to examine as closely in the flood of weekly meets.
Pop quiz: who is officially the fastest American 100 backstroker since the end of the 2012 Olympics?
If you answered 2012 Olympic and 2013 world champ Matt Grevers, you wouldn't be alone. Same goes for NCAA star Ryan Murphy.
But the correct answer is David Plummer, who at age 30 is still flying under the radar despite sitting #2 in this season's world ranks, and first among Americans.
In fact, Plummer officially holds not just the fastest, but the two fastest American 100 back swims since September of 2012 – and they've both come within the past 8 months.
The most recent was last weekend, when Plummer established a new lifetime-best of 52.40 to win the Arena Pro Swim Series in Indianapolis.
The University of Minnesota alum has broken 53 on 5 separate occasions in his career, and four of them have come since last November. He was a lifetime-best 52.51 at a World Cup meet in late 2015 before bettering that time in Indy last weekend.
The men's 100 back should be one of the most hotly-contested races at U.S. Olympic Trials, with 3 of the top 4 swimmers in the 2015-2016 world rankings all hailing from the United States. Grevers has consistency, with 16 career swims in the 52s. And Murphy has upside: he went 52.18 in leading off the mixed medley relay at Worlds last summer, though mixed relay leadoffs don't count for official world rankings and Murphy hasn't been faster than 52.5 since.
Long hidden in their media shadow has been Plummer, who may very well be the best kept secret in American swimming right now. But if he continues improving his career bests and leading all challengers in the powerhouse American backstroking dynasty, Plummer's name won't be such a secret for much longer.
Aptly named to suggest 70% of the earth is covered in water, blueseventy is the world leader in the pool, triathlon and open water wetsuits and swimskins. Since 1993, we design, test, refine and craft products using superior materials and revolutionary details that equate to comfort, freedom from restriction and ultimately a competitive advantage in the water. blueseventy products have instilled confidence in beginners as well as carried world-class athletes to countless Olympic and World victories.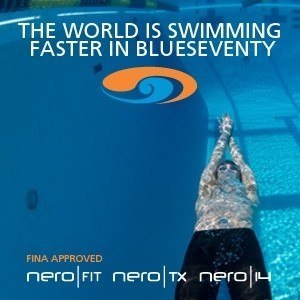 For the latest news and blogs from blueseventy visit www.blueseventy.com.
Twitter: @blueseventy 
Facebook: facebook.com/blueseventy
 Blueseventy is a SwimSwam partner.