Disclaimer: Blueseventy Swim of the Week is not meant to be a conclusive selection of the best overall swim of the week. The Blueseventy Swim is an opportunity to take a closer look at the context of one of the many fast swims this week, perhaps a swim that slipped through the cracks some as others grabbed the headlines.
This week's Blueseventy Swim of the Week comes from Dallas, Texas, which hosted one of the first major college invites of the 2014-2015 season. Always a fast and entertaining meet, the SMU Classic lived up to its reputation with some of the nation's best going head-to-head in a format specially designed to heighten the drama, with each of the 6 teams entering its top swimmer into the A heat and second swimmer into the B heat for a pair of 6-way, head-to-head showdowns.
One of the most loaded races at an all-around loaded meet was the 100 butterfly. There was Louisville's Kelsi Worrell, 2nd in the NCAA last year, along with host SMU's Marne Erasmus, who finished just .01 behind Worrell for 3rd in the nation. USC entered Kendyl Stewart, who was the overall women's butterfly star for the U.S. at nationals this summer, qualifying for Pan Pacs and 2015 Worlds. In addition, the eventual SMU Classic champions LSU entered Amber Carter, their senior and arguably best overall swimmer.
The first half of the race didn't disappoint. It was a collection of sheer speedsters, and all four went out in under 25 seconds. But it was Louisville's Worrell who really flashed the most burst, going out in 24.72 to lead Erasmus by .15.
Worrell has mostly been known as a sprinter, combining the 100 fly with the 50 and 100 frees over her early college career. But she's a sneaky-good closer – last winter, Worrell jumped into the 200 fly, seemingly on a whim, at U.S. Short Course Nationals and rocketed into the top two in the nation. Though she didn't swim the event at the AAC Championships, Worrell did opt for the 200 fly at NCAAs, a race she'd really only swum at two races in her entire collegiate career. It turned out about as good as one could expect, as Worrell took 4th in the nation behind three seniors.
Worrell didn't swim the 200 fly at the SMU Classic (it makes more sense for Louisville to use her in the 100 free mid-season, given that Tanja Kylliainen is also one of the best 200 flyers in the nation), but that's why her 100 was so exciting – it showed some promise for both butterfly distances, both of which offer national title hopes for the Cardinal junior.
After breaking out the biggest front-half split of the tough field at SMU, Worrell blew away the competition coming home, putting up a 27.40 to finish the race in 52.12. That second-50 split was a half-second better than anyone else in the pool, a great sign for Worrell's butterfly endurance.
52.12 is a blazing swim, especially in October. For reference, Worrell's best in-season time last year was 51.94, and that was at Louisville's mid-season rest meet, Winter Nationals. Worrell now sits #1 in the nation in the 100 fly by over seven tenths. Her closest challenger? LSU's Carter, who finished a distant second to Worrell at SMU with a 52.86. No other swimmers in the nation have cracked 53 as of yet.
Worrell's really come into her own as a bona fide superstar for the rising Louisville program. She's continually improving, and that trend appears to be going strong – the butterflyer was nearly a full second faster than she was at this meet a year ago. That's a crazy exciting trend for a swimmer who was one of just two athletes to break 51 last year. With still two NCAA Championships left in her career, Worrell could have the potential to challenge one of the longest-standing NCAA records of all – the nearly 13-year-old mark of 50.01 set by Olympian Natalie Coughlin.
Full SMU Classic coverage:
Aptly named to suggest 70% of the earth is covered in water, blueseventy is the world leader in the pool, triathlon and open water wetsuits and swimskins. Since 1993, we design, test, refine and craft products using superior materials and revolutionary details that equate to comfort, freedom from restriction and ultimately a competitive advantage in the water. blueseventy products have instilled confidence in beginners as well as carried world-class athletes to countless Olympic and World victories.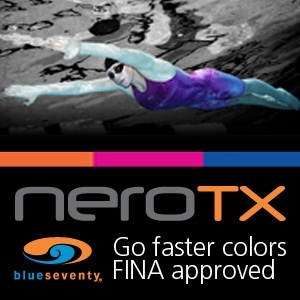 For the latest news and blogs from blueseventy visit www.blueseventy.com.
Twitter: @blueseventy 
Facebook: facebook.com/blueseventy
 Blueseventy is a SwimSwam partner.