Disclaimer: BlueSeventy Swim of the Week is not meant to be a conclusive selection of the best overall swim of the week, but rather one Featured Swim to be explored in deeper detail. The BlueSeventy Swim is an opportunity to take a closer look at the context of one of the many fast swims this week, perhaps a swim that slipped through the cracks some as others grabbed the headlines, or a race we didn't get to examine as closely in the flood of weekly meets.
Despite three wildly successful college seasons, Stanford's David Nolan was still defined by a number from his senior year of high school.
1:41.39. That was the time Nolan put up at age 18 at the Pennsylvania class 3A state swim meet in 2011, smashing the national high school record and setting a new standard for young phenoms of the sport.
That time would eventually hold up as the fastest in the entire nation that season for any level – this high school senior was faster than every single swimmer at the men's NCAA Championships.
But as much as that swim vaulted Nolan into the center of American swimming's spotlight, it would also turn out to be as much an albatross as it was a crowning achievement.
A time that outstanding ramped up the pressure immensely, so much so that Nolan's freshman season in college (which featured an individual sweep of events in the intensely competitive Pac-12 conference; 7 All-America honors, the most possible in one season; two runner-up finishes and a 3rd place finish at NCAAs) was roundly panned as a disappointment, given Nolan wasn't able to repeat his high school time.
Even his sophomore year was criticized by some, though Nolan did better his best time in the 200 IM and won NCAA titles in that race and the 100 back.
Nolan put up three more individual All-America finishes as a junior, continuing one of the most successful NCAA careers in Stanford history, but if you asked fans to point out the defining swim of his career, there was no doubt which number they'd point to.
1:41.39.
Last week, though, Nolan finally broke through with that next career-defining swim, posting a finish that suddenly sends that 1:41.39 to the back-burner, a swim that will finally put his big-time college career front and center in his ongoing legacy.
On the opening day of the men's NCAA Championships, with the crowd roaring and the pressure as high as it gets in short course swimming, Nolan crushed an American record 200 IM, becoming the first man in history to break the 1:40-barrier in the event, an accomplishment that not too far back in history would have been considered absurd.
Nolan crushed Cal's high-flying duo of Josh Prenot and Ryan Murphy; he became the only man the entire week to beat red-hot Texas Longhorn Will Licon head-to-head, and he did it by a huge margin.
Nolan's 24.32 split on the backstroke was off-the-charts. With the exception of Murphy, now the best backstroker in NCAA history, Nolan's split beat out the entire field by a full second. He even beat Murphy by half a second. His 24.18 leg on freestyle was the best closing split we've seen in the NCAA since at least 2011, and could very well be the best finishing leg in short course swimming history.
But more important than the American, NCAA, meet and U.S. Open records, Nolan gained a new career swim, a time that will both define his college successes and (if he so chooses) launch him into the ranks of the pros with just over a year until the 2016 Olympics.
When fans think of David Nolan, 1:41.39 will now be just a distant memory. There's a new number that instantly jumps to mind:
1:39.38.
Aptly named to suggest 70% of the earth is covered in water, blueseventy is the world leader in the pool, triathlon and open water wetsuits and swimskins. Since 1993, we design, test, refine and craft products using superior materials and revolutionary details that equate to comfort, freedom from restriction and ultimately a competitive advantage in the water. blueseventy products have instilled confidence in beginners as well as carried world-class athletes to countless Olympic and World victories.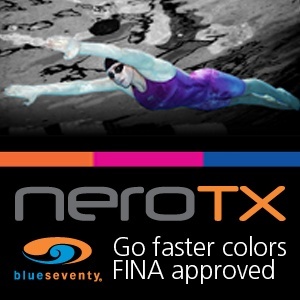 For the latest news and blogs from blueseventy visit www.blueseventy.com.
Twitter: @blueseventy 
Facebook: facebook.com/blueseventy
 Blueseventy is a SwimSwam partner.