Disclaimer: BlueSeventy Swim of the Week is not meant to be a conclusive selection of the best overall swim of the week, but rather one Featured Swim to be explored in deeper detail. The BlueSeventy Swim is an opportunity to take a closer look at the context of one of the many fast swims this week, perhaps a swim that slipped through the cracks some as others grabbed the headlines, or a race we didn't get to examine as closely in the flood of weekly meets.
For someone with an extensive resume through club, high school, college and international swimming, Missy Franklin arrived at the 2015 NCAA meet with a surprising amount to prove.
Despite being on the very short list of the world's best all-around female swimmers, Franklin still faced questions about her continued improvement going forward, coming off of basically a full calendar year marked with adversity and bad breaks.
There was the 2014 NCAAs, where Franklin's stellar 200 free was, for some, overshadowed by losses in two other "off" events, including a 500 free where Franklin led with 50 yards to go but was run down in a big way by Georgia's Brittany MacLean. In addition, though Franklin went lifetime-bests in all three races, her Cal squad was roundly disappointing, an insanely-talented roster underperforming, losing a shot at the national title and being relegated to a surprise battle for second by the final day.
Then there was the summer of 2014, where Franklin was hit with debilitating back spasms and was only able to take home a single bronze medal individually.
The doubters weren't necessarily many, but they were loud. (Avid SwimSwam commenters will probably remember a few of their screen names). Had Franklin plateaued? Was the move to Berkeley actually a setback in the career of USA Swimming's rising icon?
Though we'll have to wait for long course action this summer to really know for sure, Franklin's performances at NCAAs last week offered a pretty resounding answer. In particular, one 5-digit time serves as a cipher-code for the phrase "Missy's back!" (It might also mean "She never really went anywhere at all"). That 5-digit code: 1:39.10.
1:39.10, of course, is the earth-shattering time from Franklin's NCAA championship swim in the 200 free. In a meet full of astounding, record-breaking performances, it's very easy to argue that this swim is head and shoulders above the rest.
Franklin broke the American record by 1.2 seconds, a gigantic amount in high-level swimming. Since Missy set the record at last year's NCAAs, it also counts as a 1.2-second drop, a great indicator of Franklin's improvement as a swimmer over the tough past 12 months.
With that swim, Franklin becomes the fastest 200 freestyler in history by a full second and a half. She won the event by almost two and a half, swimming against another of the fastest freestylers in history, Simone Manuel.
Probably most impressive was the way Franklin vaulted below the 1:40-barrier. There was a lot of speculation that Franklin could go 1:39 this season, but most predictions had her barely cracking the barrier – a prediction of 1:39.10 pre-meet would have probably been labeled some adjective between "very optimistic" and "highly unrealistic."
Even more important to Franklin, though, was that her swim sparked the Cal Bears to ultimately do as a team what they couldn't in her freshman season, and the bubbly Olympian got to close out her college career at the top of the NCAA podium.
Aptly named to suggest 70% of the earth is covered in water, blueseventy is the world leader in the pool, triathlon and open water wetsuits and swimskins. Since 1993, we design, test, refine and craft products using superior materials and revolutionary details that equate to comfort, freedom from restriction and ultimately a competitive advantage in the water. blueseventy products have instilled confidence in beginners as well as carried world-class athletes to countless Olympic and World victories.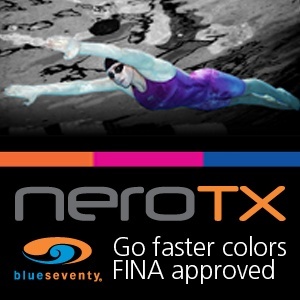 For the latest news and blogs from blueseventy visit www.blueseventy.com.
Twitter: @blueseventy 
Facebook: facebook.com/blueseventy
 Blueseventy is a SwimSwam partner.