Disclaimer: BlueSeventy Swim of the Week is not meant to be a conclusive selection of the best overall swim of the week, but rather one Featured Swim to be explored in deeper detail. The BlueSeventy Swim is an opportunity to take a closer look at the context of one of the many fast swims this week, perhaps a swim that slipped through the cracks as others grabbed the headlines, or a race we didn't get to examine as closely in the flood of weekly meets.
Junior College swimming in the United States is mostly broken up into two different leagues: the National Junior College Athletic Association (NJCAA) and the California Community College Athletic Association (CCCAA).
Both keep their own sets of records, but California's are technically considered "state records," as the league is comprised of California-based schools.
But this spring, Diablo Valley's Brandon James took the California state record to new heights, actually passing up the NJCAA "national" record in the 200 backstroke.
James surpassed the mark twice in the span of a month, first winning the Big 8 Conference title in 1:45.18, then taking the CCCAA championship in 1:44.95.
Both times are faster than the NJCAA mark set at 1:45.19 by Indian River's Stefan Stojmenovic back in March.
That also represents a big time drop for James, who is still a college freshman. A club swimmer for the Terrapins, James' best time prior to the 2015 postseason, per USA Swimming's SWIMS database, was 1:46.30, done in December of 2014.
That means in that in the span of just over four months, James cut nearly a second and a half. Equally impressive: James only broke 1:50 for the first time in his career in December of 2013, and has had a huge trajectory from that point.
Aptly named to suggest 70% of the earth is covered in water, blueseventy is the world leader in the pool, triathlon and open water wetsuits and swimskins. Since 1993, we design, test, refine and craft products using superior materials and revolutionary details that equate to comfort, freedom from restriction and ultimately a competitive advantage in the water. blueseventy products have instilled confidence in beginners as well as carried world-class athletes to countless Olympic and World victories.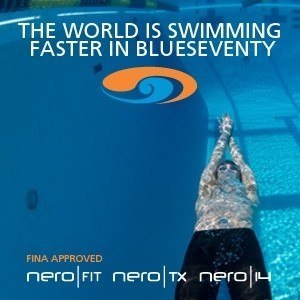 For the latest news and blogs from blueseventy visit www.blueseventy.com.
Twitter: @blueseventy 
Facebook: facebook.com/blueseventy
 Blueseventy is a SwimSwam partner.