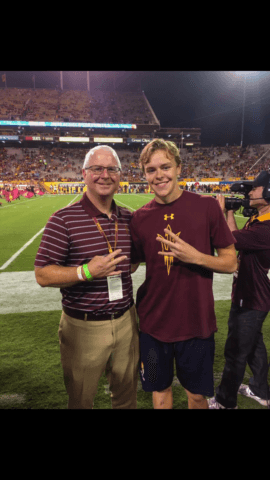 NCSA qualifier Will Brenton will be heading to Tempe next fall, as he's given his verbal commitment to join head coach Bob Bowman and the Arizona State Sun Devils. Brenton will be making the move to Arizona from Long Lake, Minnesota, where he competes for the Orono High School Spartans and the Edina Swim Club.
Last season, Brenton placed in the top 16 of multiple events at the Minnesota Class A State Championships. There, he swam his personal best 49.62 in the 100 back to finish 2nd overall. He also ended the meet with a 13th place finish in the 100 fly.
During the long course season, Brenton was a qualifier for the NCSA Summer Championships, where he finished 3rd in the 50 back (27.03) and 7th in the 100 back (58.75).
Brenton's Top Times:
| | |
| --- | --- |
| Event | Best time |
| 100 back | 49.62 |
| 200 back | 1:52.42 |
| 50 free | 22.47 |
| 100 free | 48.63 |
| 100 fly | 53.69 |
Adding Brenton to the backstroke group will help give ASU some depth after the Sun Devils graduate Pac-12 100 back finalists Richard Bohus and Reid Elliott, as well as 200 back finalist Barkley Perry, at the end of this season.
The Pac-12 only scores the top 16 at the men's meet, but with marginal improvements in the 100 back, Brenton could be an immediate scorer for the Sun Devils at the conference meet.
AB