Courtesy: Stas Holodnak
I returned to the Coney Island beach in late May when the water felt cold and my feet dared to leave the ground just for mere seconds. In June, seconds turned into minutes, in July, the water still felt cold but only because the air was much hotter, and finally in August, the water became warmer than the air. At that point, the morning swim was a pure pleasure for which a short ride from Bay Ridge was a small price to pay. It was by far my favorite part of the day.
As the summer went on, my swimming endurance went up. I was venturing out into open water leaving breakwaters that laced the Coney Island beach far behind. I would not remain there for too long, I felt more comfortable swimming between the outlying edges of the breakwaters. Their appearance as safe ground was however misleading. I've heard about a woman who got too close to the breakwater stones and got trapped by some kind of current. Fortunately lifeguards were able to pull her on top of the stones. She escaped with minor scratches.
As the summer went on, I managed to make a new friend. For a few days I was passing by an older gentleman who was walking back from the beach in his swimming trunks. It took one friendly smile on my part and he was softly admonishing me for showing up too late (it was well before 7 AM). His name was Lyova and he was 80 years old. He looked like an opposite of a fit person but being overweight did not stop him from swimming for an entire hour every day. His style was breaststroke with the head above water. He told me that once he and his friend, a retired Navy captain Fedya, were chased out of the water by the police because sharks were being seen next to them. Lyova didn't fear the sharks, he feared the sun – after 7 AM he would don and swim with a white baseball cap.
Not everyone came here to swim. Right on the top of the breakwater stood a lone fisherman. He was a regular there and a mortal danger to the fish. Dressed like a waiter, he wore a white long sleeve shirt and pens. The only thing more dangerous than swimming close to breakwater is to stay on one. One can easily break the neck by failing to keep a standing balance let alone walking on wet, algae covered stones. Even the sandals with the super thick soles that the man was wearing would not eliminate the danger. No guts no fish and there was a lot of the later – he would catch a porgy or a flounder of a decent size every few minutes. May be he was an owner of a seafood restaurant catching the catch of the day.
Save for the aforementioned danger, otherwise it was a perfect location. When fishing from a peer, one is high above water, completely detached from feeling the elements. Fishing from a beach is even more so. Fishing from a boat implies that one must have access to one, plus then, fishing typically stops being an individual endeavor. Here on the breakwater, the man is in the midst of it like a grizzly bear who catches salmon inside the Alaskan rivers. It must feel good to be able to stand out there. The only way I could pull this off was to swim up to the edge of the breakwater, but I will never do it – just standing there is too dangerous.
For a few days now I was observing someone swimming freestyle back and forth between the breakwaters. The swimmer kept the same style through the entire time I was there. In comparison, I can maintain swimming freestyle for five minutes at most. On a closer look, I saw that the swimmer was much older than myself which made him look even more impressive. His was not freestyle as we know from watching the Olympics or even observing the kids who are taught to swim properly. His was freestyle self taught – the head was turning too much and the hands were going for shorter strokes almost criss-crossing one another, but to me his imperfect freestyle looked nice because it was so perfectly steady.
He must be self taught I thought to myself. He must belong to the generation of kids whose fathers, instead of hiring swimming teacher in some pool, would throw their boys unexpectedly from the boat in the middle of the river. Quite a few older people told me this is how they were taught to swim. Meanwhile, the swimmer reached Lyova and together they got out of the water.
"Your friend is an impressive swimmer", I told Lyova the next morning. "Yes", he replied, "that's Fedya, a Navy captain. "But",  Lyova continued, "you should have seen my Dad! He was the mighty one. He liked to swim with a brick in each hand." Probably to prevent him from flying, I mused, but didn't ask Lyova to elaborate.
The next morning I saw Fedya, the Navy captain, swimming by himself. He said Lyova was a bit under the weather. I hope to see Lyova again soon, if only to find out about the reason behind swimming with the bricks!
About Stas Holodnak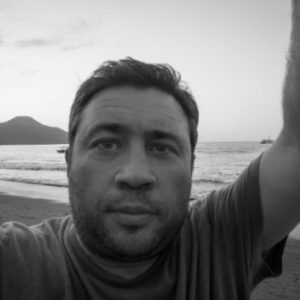 The very first time Stas saw the sea was as a little boy. He saw it from a bus window at the end of a bumpy twelve hour ride. The Black Sea appeared to him as blue as the sky itself only much crisper and within reach. Today Stas lives in Brooklyn mere steps from the water. If he is not swimming or sailing – he is writing about it.