For more commitment articles, be sure to check out SwimSwam's College Recruiting channel.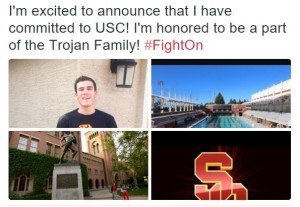 Mark Jurek has made a verbal commitment to the University of Southern California, leaving only one uncommitted name on our Top 20 list: True Sweetser. Jurek was our number 6 pick for the class of 2016, based on his strength relative to his cohorts in both the 200 and 400 IMs and the 100 and 200 flys.
As a sophomore at Chandler High School, Jurek broke the Arizona State High School records in both the 200 IM (1:48.31, by 1.1 seconds) and 100 fly (47.80, by .07). He came back in the fall of 2014 as a junior and lowered his 200 IM record (1:47.03) and tied his 100 fly record. This past summer Jurek won the 200m fly at Summer Juniors and was eighth in the 100 fly. He also placed ninth in the 400 IM and finished the summer with 2016 Olympic Trials cuts in the 100m fly, 200m fly, and 400m IM.
 
SCY
LCM
100 fly
47.80
54.77*
200 fly
1:43.72
1:58.81*
200 IM
1:47.03
2:07.06
400 IM
3:48.32
4:22.91*
200 breast
1:59.99
2:23.67
200 free
1:37.90
1:55.11
500/400 free
4:23.67
4:01.02
*2016 Olympic Trials cut
Jurek is a big pick-up for the Trojans who, unlike their women's team, haven't yet received any verbal commitments from our Top 20 until now. But Jurek is a terrific cornerstone for USC's class of 2020. With a year and a half in front of him before his first collegiate championship season rolls around, Jurek is already less than a second away from scoring at NCAAs in the 200 fly. At the conference level, he will have a big impact from the outset; his 200 fly would have been third at the 2015 Pac-12 Championships, just .02 ahead of USC's Michael Domagala. Both his IM times would have been in the middle of the pack in their respective "B" finals.
Hopefully Jureks's commitment will get the ball rolling for the Trojan men's team, who have been much quieter this year than last. The women's team has already landed three Top 20 recruits among their five commits.
If you have a commitment to report, please send an email to [email protected]