2018 COMMONWEALTH GAMES
Thursday, April 5th – Tuesday, April 10th (swimming)
Optus Aquatic Centre, Gold Coast, Australia
Prelims at 10:30am local (8:30pm previous night EDT)
Finals at 7:30pm local (5:30am EDT)
The 2018 Commonwealth Games medal table took an absolute beating by host nation Australia, as the green and gold established themselves as the kings and queens of the Optus Aquatic Centre.
An onslaught of medal grabbing took place, courtesy of 2 complete event sweeps by the Aussies. First in the men's 200m backstroke, Mitch Larkin completed his trifecta of backstroke wins, adding the 200m victory to his earlier 100m and 50m titles. Behind him in tonight's 200m race were teammates Bradley Woodward and Josh Beaver.
The women's 800m freestyle race also saw a trio of Aussies hit the wall first, led by 17-year-old Ariarne Titmus. Titmus already claimed silver in the women's 200m freestyle and helped the Australian women earn gold in the 4x200m freestyle relay. Tonight the Tasmanian led the way for her 2 teammates, as Jess Ashwood and Kiah Melverton collected respective silver and bronze in the race.
Emma McKeon snagged bronze in the 200m fly behind Wales' Alys Thomas and McKeon's own Aussie teammate Laura Taylor, while the Campbell sisters took home gold and silver in the women's 100m freestyle.
South Africa simply won't go away, still making the most of each of its medal-coring opportunities. Tonight, it was Chad Le Clos' turn once again to shine on the world stage, claiming his 3rd butterfly win with the 100m distance. Then, Cameron van der Burgh surprised the reigning world champion Adam Peaty of England for gold in the 50m breaststroke sprint.
Finally, in the women's 100m breaststroke, Tatjana Schoenmaker made believers out of the crowd with her 2nd win of these Games. She notched the 200m breast gold earlier at the meet.
Without its superstar Joseph Schooling, Singapore managed to get on the board thanks to para swimmer Wei Soong. The 19-year-old earned the bronze medal in the men's S7 50m freestyle.
Canada's Taylor Ruck continued her historic Games performance, taking bronze in the 100m freestyle to bring her medal total to an incredible 7 in all.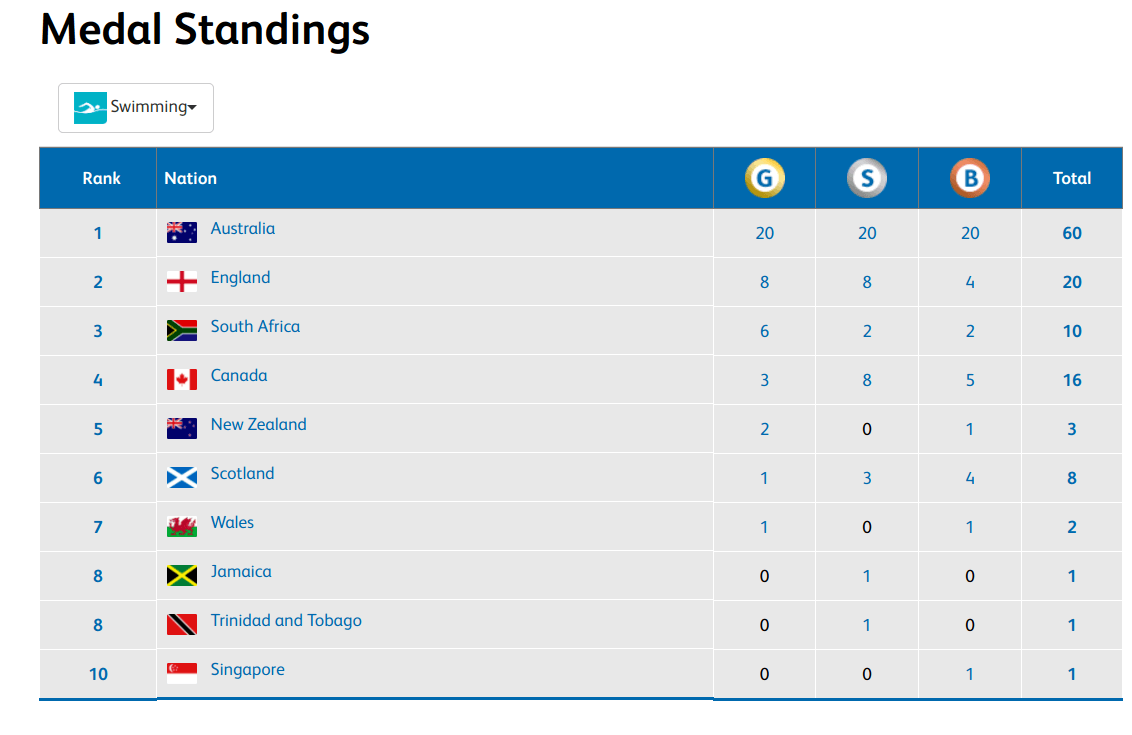 Medal Table courtesy of gc2018.com