2018 NEW ZEALAND OPEN CHAMPIONSHIPS
Monday, July 2nd – Friday, July 6th
Sir Owen G. Glenn National Aquatic Center
LCM
The 2018 Commonwealth Games served as the first qualification meet for Kiwi athletes to etch their name onto the New Zealand roster for Pan Pacific Championships, while next week's New Zealand Open Championships serves as the 2nd opportunity to head to Tokyo. Over 300 athletes, both domestic and foreign, are heading to the Sir Own G. Glenn National Aquatic Centre for the competition starting on July 2nd.
Per the high performance selection criteria, New Zealand's swimmers must record a time equal to or better than the times listed in the table seen below, with a maximum of 3 swimmers per event being granted consideration.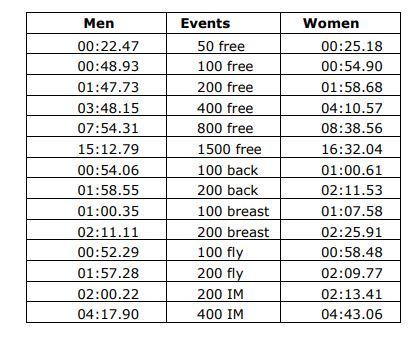 As of the Commonwealth Games, just 3 Kiwi athletes had notched Pan Pacs qualifying times, starting with surprise medalist Lewis Clareburt. The 18-year-old wowed on the Gold Coast with a big-time personal best in the men's 400m IM, earning a mark of 4:14.42 for bronze. Entering these national championships, the Wellington native will be competing in the 100m free, 400m, free, 200m fly, 200m IM and 400m IM events.
Although they finished off the podium, Daniel Hunter and Bradlee Ashby both collected qualifying times on the Gold Coast. Hunter's 50m freestyle effort to 22.32 dipped under the 22.47 QT, while Ashby's 200m IM mark of 1:59.59 was comfortably beneath the 2:00.22 cut. Hunter is scheduled to race a monster schedule which includes the 50m/100m/200m free, 50m back, and 100m fly. Ashby is not listed on the psych sheets for next week's meet.