Well, this whole North Baltimore training group just took an interesting turn.
Paralympian Jessica Long has just announced that she, too, will be training with Bob Bowman, Keenan Robinson, and their staff at the North Baltimore Aquatic Club for the 2016 Olympics.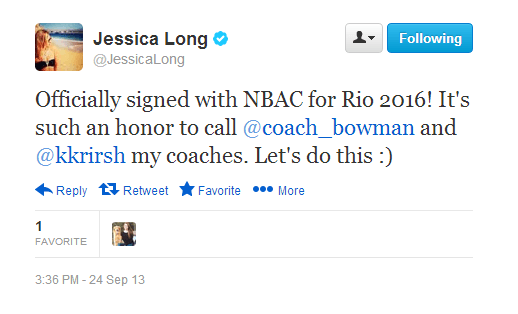 Long is one of the most decorated Paralympic swimmers in history. Since her first games in 2004 (at just 12 years old), she has already won 12 Olympic gold medals, three silvers, and two bronzes, and she's only 21 years old. She was also the 2007, 2012 & 2013 ESPY winner for Best Female Athelte with a Disability, and the 2012 U.S. Paralympic SportsWoman of the Year by the USOC.
NBAC is no strangers to working with Paralympians. Ian Silverman, the winner of the 2013 Tricia L. Zorn Award for the country's top athlete with a disability after breaking the 800 and 1500 World Records for the S10 classification.
Tuesday has been an exciting day for Paralympic swimming. Earlier today, NBC announced that they would have over 60 hours of televised coverage at the Rio 2016 Paralympic Games – roughly 12 times as much as they had in 2012.