Ritter Sports Performance is PROUD to announce their inaugural strength and technique series called, "The 12 Days of SwimMas: Freestyle Edition." This series kicks off December 11th and runs through the New Year! The best part about this series is it's completely FREE, and you can register for it at anytime!
During the 12-Days of SwimMas, registered users will receive a daily email with access to two videos in it. Both videos for that day will be based ONE technical aspect of the Freestyle Stroke. The first video will break down that technical aspect from a strength and conditioning perspective, and the second video will break down that technical aspect from a stroke technique standpoint.
Here's the schedule: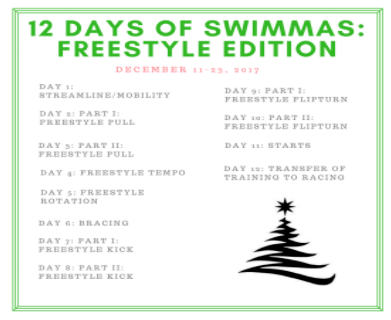 Since Day 1 is about all the streamline, the first video will include a handful of strength and mobility exercises to help improve your streamline and the second video will include a technical break down of the streamline and any key technical points/drills to improve your streamline speed!
Video 1: Strength and Mobility Exercises To Help Improve Streamline 
Video 2: Technical Breakdown of the Streamline
By reading this exclusive SwimMas "Sneak Peek" on SwimSwam, you're getting Day 1 free WITHOUT Registration. If you're looking to improve your overall Freestyle speed, be sure to register for this FREE series!
About Ritter Sports Performance: At RITTER Sports Performance, we offer a variety of services and products for coaches and athletes worldwide. We help athletes, specifically swimmers and endurance athletes, become more technically sound, get stronger, go faster, and eat better. For swim coaches, we help with training programs and supplementing support through technique swim coaching. Be sure to check out our podcast – RITTER Sports Performance.
Instagram: https://www.instagram.com/rittersp/
Facebook: https://www.facebook.com/RITTERSP/
Twitter: https://twitter.com/rittersp?lang=en