2019 SEA GAMES
Wednesday, December 4th – Monday, December 9th (swimming)
New Clark City Aquatics Center, Philippines
LCM
The 2019 Southeast Asian (SEA) Games kicked off in style today, Wednesday, December 4th in New Clark City, Philippines. Charging to the top of the swimming medal table with 6 medals in total, 4 of them gold, was the nation of Singapore.
Accounting for each of the 4 gold medals was a Quah sibling, as their Singaporean force was felt throughout day 1 finals, with Quah Jing Wen, Quah Ting Wen, and Quah Zheng Wen all reaping a top prize, the latter of whom was also successful in the men's 4x200m free relay.
Of note, Olympic champion in the 100m fly, Joseph Schooling, was also a member of that 800m free relay.
Below is the overall swimming medal tally through day 1, while the videos following highlight each of the Quah sibling's swims, including the 53.79 100m backstroke meet record from Zheng Wen, a time that qualifes the Cal Bear for the 2020 Olympic Games.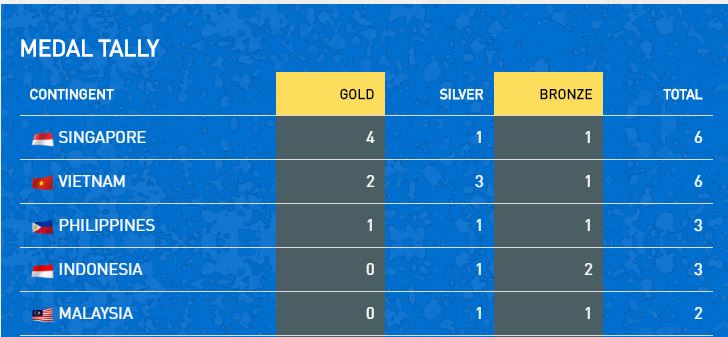 Quah Zheng Wen's 53.79 100m Back Victory
Quah Jing Wen's 2:10.97 200 Fly Victory
Quah Ting Wen's 54.74 100 Free Victory
Singaporean Men's 4x200m Freestyle Relay Victory