TYR Sport is pleased to announce it has renewed its contract with 2X Olympian Mike Alexandrov.
Alexandrov recently reminded the world what he was made of at the 2014 Orlando Grand Prix. He dominated the Men's 100 LC Meter Breaststroke, finishing top seed during preliminaries. In a nail-bitingly close final, he clocked a 1.01.71, beating out Brazilian Felipe Lima's time of 1.01.85 and earning him the top overall spot. Alexandrov is already ranked as the top American in the world this year, with an eighth-ranked 1:01.38 from Grand Prix Austin. Also in Orlando, Alexandrov placed third in the Men's 200 LC Meter Breaststroke.
The 6'4" athlete first made a splash when he represented his native country of Bulgaria at both the 2004 and 2008 Olympics. In 2009, Alexandrov began swimming for the U.S., where he met instant success; he set two American records in two days at the 2010 Short Course National Championships. He went on to represent the U.S. at the 2010 FINA Short Course World Championships, where he helped propel the 4x100m medley-relay team to a Gold medal finish, and again at the 2012 FINA Short Course World Championships, where he finished fifth in the 100m breaststroke. At the 2013 World University Games, Alexandrov earned a Silver medal in the 100m breaststroke, as well as a Bronze medal in the 400m medley relay.
"I'm really excited to continue as a signed TYR athlete," said Alexandrov. "It means a lot to be sponsored by such an exceptional company that I know will support me during my racing and training around the world. It has been a wonderful experience so far with Team TYR, and I'm looking forward to building my future with this renowned brand."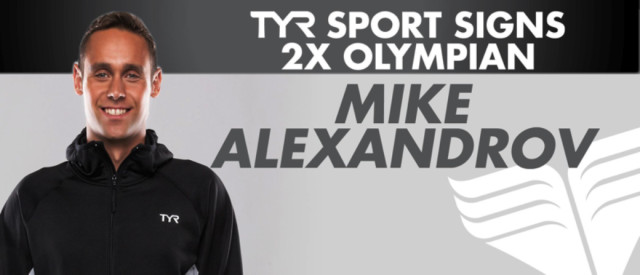 About TYR
Named for TYR, the Norse god of warriors, we are a company started by athletes and powered by athletes. We are dedicated to re-imagining technologies that help athletes obtain peak performance through innovation and design. Like all athletes, we always work with an intense spirit of competition. Everything we do revolves around creating the fastest, most advanced performance products. Always in front.
Follow TYR Sport on Twitter here.
Like TYR Sport on Facebook here.
Follow TYR Sport on Instagram here.
Courtesy of TYR Sport, a SwimSwam Partner.