After returning home to Arizona, getting refocused academically, and officially being accepted back into school at Cal earlier this summer, Tyler Messerschmidt announced today that he has been officially welcomed back to the Cal men's swimming & diving team.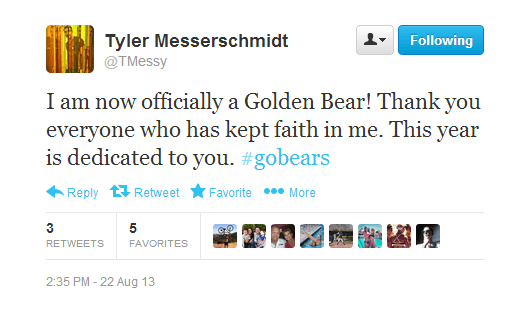 As the Cal men quest for their 3rd title in 4 years, Messerschmidt will be a massive part of the effort. Cal's men's 200 free relay finished 5th at NCAA's last year (though they did it without burning an event from Tom Shields) and their 400 free relay finished just 9th, even with Shields, as well as another senior Ben Hinshaw.
Aside from the addition of the number three class in the country, including several sprinters who could step into those relays, Messerschmidt alone will probably have at least a 50 point impact on Cal at NCAA's between individual scoring and relay contributions. He has bests of 19.25 in the 50 yard free and 42.32 in the 100 yard free. Among returning NCAA swimmers' best times from last season, that puts Messerschmidt 4th and 3rd in the 50 and 100 freestyle, respectively.