Courtesy: Coach Christen Shefchunas, Speaker and Confidence Coach to female athletes, coachchristen.com
Niki Vilas Boas and Becca Segal are high school swimmers.  Like a lot of other swimmers, they also do many other things.  Niki is leader of the Hispanic Latino Affinity Group and spent last semester in NYC doing an on-set study of Saturday Night Live. Becca is a national speech and debate champion and top elected Girls State representative. They both have played other sports, they are active in volunteer organizations and together they are cofounders of their own company, WOTTER Swim. This year, the girls are seniors which means right now, in addition to the many things they balance, they are heavily occupied with college applications.  No question, these girls are busy and they are driven.
I sat down with Niki and Becca to understand how they have found the drive and discipline to accomplish so much while still in high school and to talk to them about their company, WOTTER Swim.
Coach Christen: "So girls, I am very curious to understand how you do all this.  What is your secret?"
Niki: "You know, we see so many amazing examples of leadership coming from high school students now.  We are just doing our version of what so many others are doing.  I know they all feel like we do, sometimes it is definitely way too much and we each have our own ways of melting down."  Niki and Becca both laugh and share a reflective look, I can see there are some memories of those meltdowns and they aren't very pretty.
"Becca and I have actually talked about this.  Every time we hit a new plateau in one of our activities or with our business, there is this euphoric feeling – like, "I can't believe this is happening," like our hearts are going to explode.  The first time I remember ever having that feeling was during age group swimming.  It is a very clear memory.  I was in the lane and when I looked up and saw that I had shaved nearly 3 seconds and won my heat in the 50 Back, I felt like I wanted to cry and scream and laugh all at the same time. And let me tell you, I was like in the 4th heat, but I could have won Gold at the Olympics because it was just so amazing for ME to do that.  It happened again the first time I made state cut.  When you surprise yourself, it challenges what you thought was possible not just in swimming… it has a halo effect on everything.  It's like you start to see that life is an individual sport and you just keep being lifted up by PRs."
Coach Christen: "You said it girl."
Becca: "Yeah.  Just like that.  I have a very similar memory at JCC swimming when I was 8…  Swimming was the foundation for both of us and even though neither of us are going to the Olympics in our lifetime, or anywhere close, the pool is where we found the desire to keep improving, keep growing.  It is where we found confidence and that has meant everything."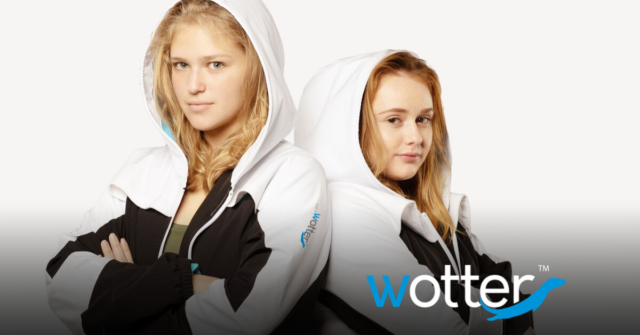 Coach Christen: "So you girls founded WOTTER Swim during your sophomore year of high school.  What was your goal in doing that?"
Becca: "Well, in school we talk a lot, like really a lot, about problems in the world, but no one ever teaches us how to solve them.  We knew we wanted to take a social issue that mattered to us and find a way to make a difference using business. We realized that it's hard to change things without money behind your cause. Making money for money's sake doesn't feel like a healthy goal when there are so many things we need to improve in the world. Niki and I believe a business should bring a benefit to all it touches and the money it generates should be used to help make that happen."
Niki: "When you are a swimmer, it feels like a significant part of your identity in a way other sports we have participated in never really has.   Because we are girls and we understand the things girls on deck experience, it meant a lot to us that girls should get in and stay in sports so they could get that foundation of confidence and determination that Becca and I got.  Obviously we think sports are just as important for boys, but we don't have the same first hand experience there. We knew we could really understand and create solutions to improve the girl experience.  We started researching the statistics and learned that girls leave swimming at twice the rate of boys by the time they finish high school and that only one in four coaches on deck are female.  We felt like we could at least bring awareness to these facts and through awareness, maybe begin to change the numbers.  I mean, why do girls leave more?   We don't have all the answers, but we are girls and we can understand the role of body image and the need to see more female role models on deck.  WOTTER is about validating and elevating girls in swimming so they want to stay."
Coach Christen: "So, WOTTER is off to a really impressive start.  You girls have been successfully crowdfunded on Kickstarter, including the backing of 3 decorated Olympians, you've won multiple pitch competitions, appeared on a nationally televised show by Entrepreneur Magazine and you've been named among the top 50 youngest entrepreneurs in America in 2018.  Wow.  What is WOTTER doing?"
Becca:  "Well, we have created the world's ONLY female swim parka. Until now, the parka has only been available in unisex styling.  We don't think female parkas are going to keep girls in swimming longer, the point is that we find this to be symbolic of overlooking the unique needs of females in our sport.  Our parka is loaded with features that really consider what we as girls want in a garment we all wear regularly after practice or between heats."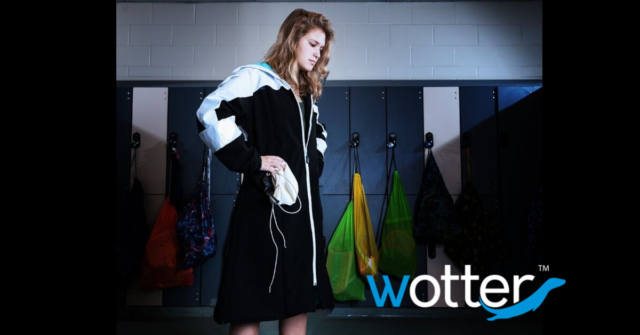 Niki:  "You know, the parka is just the beginning.  We are building a FOR GIRLS BY GIRLS company with an ALL GIRL crew.  We don't just want to bring girls better choices, we want to show other girls how to start businesses because this experience has been incredibly rewarding and educational for Becca and me.  We plan to continue to bring female forward athletic swim gear to the deck and want girls and women to know that wearing our brand is a way to make a statement about sports equality and to support the mission to help keep girls in swimming."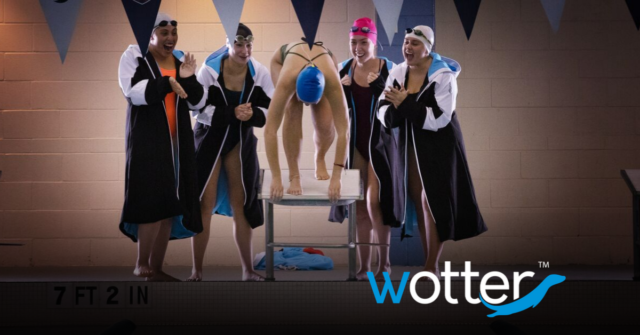 ABOUT THE WOTTER SWIM PARKA
The WOTTER SWIM PARKA is designed to help girls feel confident on deck and offers a host of girl-inspired features:
•           Highest quality fabrics that feel good against wet skin
•           Larger hood for ponytails and top knots
•           Wrap and snap feature for ready storage in a girl's swim bag
•           Rubberized zipper pulls for wet hands
•           Transparent window on the sleeve for heat sheet
•           Female-forward styling
The parka is available now at wottergear.com and comes in XXS to XL sizes fitting youth through adult swimmers.
ABOUT COACH CHRISTEN SHEFCHUNAS
Coach Christen is a 4x All American Swimmer and former captain of the Lady VOLs College swim team.  She coached college swimming for 13 years and has worked with a host of Olympians, World and NCAA Champions. She is a speaker and confidence coach to female athletes.  www.coachchristen
You can follow WOTTER on Instagram, Twitter, and Facebook for updates.
Courtesy: WOTTER, a SwimSwam sponsor.