Last week the guys over at swimnerd released a video showing them connecting, writing, and running a swim practice from an iPhone.
This swimming startup was successfully backed on Kickstarter in September 2016. They delivered their first batch of clocks in September 2017 but without the mobile application. While no official release date has been provided, it seems September has been a big month for them in the past.
Coaches and swimmers have been raving about the swimnerd pace clock since they began showing up on pool decks all over the world.
Visibility:
"It is great to have a clock that you can see easily in the bright summer sun."
"I have to say the swimmers love the green digits and seem more alert."
"We love the green digits, which can be seen from all of our 10 lanes in a 50m pool."
Customer Service:
"One thing that lacks in most businesses today is customer service…well not with the swimnerd."
"The customer service is outstanding. Nate seems to be there for us all day round before, during and after the delivery."
Value:
"This clock is simply awesome! For the price, it blows all of the competitors out of the water!!!"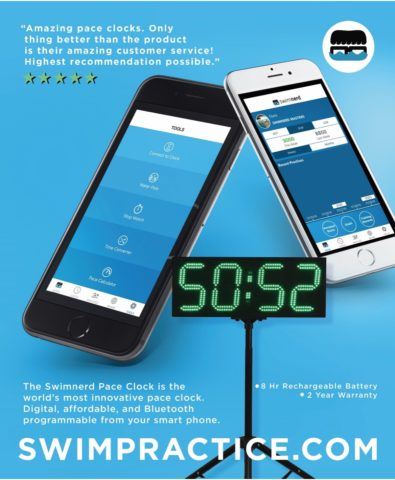 Follow on:
Facebook ► https://www.facebook.com/swimnerdpaceclocks
Twitter ► https://twitter.com/swimnerds
Swim gear news is courtesy of Swimnerd, a SwimSwam partner.