Custom Woven Towels is giving away 10 free swim towels each month! Get qualified to win by simply liking our Facebook page.
We're proud of the swim teams we already work with.
La Salle University Swimming and Diving
University of Texas at Austin Longhorn Aquatics
Alexandria Swim Club
University of Illinois Swim and Dive
Arkansas Swimming
Trident Aquatic Club
NC State University Swimming
Aquajets Swim Team
South Carolina University Swimming and Diving
Nova Southeastern University Swimming
Cornell Swimming
North Carolina Aquatic Club
Chicago Wolfpack
Aquatic Club
Indiana University Swimming
Texas A&M University Swimming
Team Rockland Swimming
Marlins of Raleigh
Howard University Swimming and Diving
University of the Cumberlands Swimming and Diving
Stanford University Swimming and Diving
Brophy College
Swim Florida
NC Swimming All Stars
Connecticut Swimming Zone Team
University of West Virginia Swimming and Diving
Minnetonka Swim Club
Wichita Swim Club
Coastal Maine Aquatics 
UNC Charlotte Swim Club
Carthage College Swimming and Diving
Paducah Swim Team
South Eastern Virginia Aquatics
And more!
Our custom towels are made in the Carolinas, not overseas! Low 24 swim towel minimums. Your custom logo and design is completely woven into the towels fabric, not printed. We also offer swimmer personalization, woven right into the towel.
Send us an email and get started on your custom swim team towel today!
Custom Woven Towels is your best source for custom swim towels great for swim clubs, swim teams, private pools, swimming competitions, awards and end of year banquet gifts! To learn more about Custom Woven Towels, visit www.CustomWovenTowels.com. For a quote, contact [email protected] or 800-614-8130.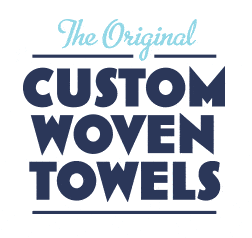 www.CustomWovenTowels.com
Facebook / Twitter / Instagram
Custom Woven Towels is a SwimSwam partner.