JOB DESCRIPTION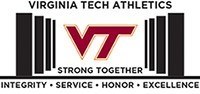 Assistant Coach, Men's and Women's Swimming – Virginia Polytechnic Institute and State University (Virginia Tech), a Division I member of the NCAA and a member of the Atlantic Coast Conference, has an immediate full-time faculty opening for an assistant coach for men's and women's swimming.
The chosen candidate will coordinate and administer aspects of student-athlete recruitment for men's and women's swimming, operating under the appropriate NCAA bylaws.
Coaches and / or assists with the coaching of one or more sub-components of the overall program, and assists in all aspects of student-athlete training for athletic competition.
Reports directly to the head coach.
A Criminal Background Investigation and driver's license check is required for the hired candidate and the results may impact employment. The selected candidate will exemplify Virginia Tech Athletics' core values of Integrity, Service, Honor, Excellence, and Strong Together.
REQUIREMENTS
Bachelor's degree with related experience; college coaching experience and / or competition experience; knowledge of NCAA rules and regulations pertaining to swimming; working knowledge of individual skills and team systems; ability to recruit and instruct student-athletes; strong desire and ability to promote the sport to the general public; excellent work ethic and communication skills required to recruit high-level student-athletes and interact with parents and coaches; ability to work with individuals from diverse backgrounds. Preference will be given for: Master's degree; Division I coaching and or competition experience; Division I recruiting experience.
COMPENSATION
Salary is commensurate with experience.
HOW TO APPLY
Interested candidates must complete the faculty application online at www.jobs.vt.edu, posting #AP0150216 and attach a resume, cover letter, and a list of three professional references. Quick link to job site: http://listings.jobs.vt.edu:80/postings/59096. We cannot accept emailed, mailed, or faxed resumes. Deadline for application is August 11, 2015. Contact Pam Linkous, Senior Director of Human Resources for Athletics, if you have questions regarding the application or screening process (540) 231-3142 or [email protected]
Virginia Tech has a strong commitment to the principle of diversity and, in that spirit, seeks a broad spectrum of candidates including women, minorities, and people with disabilities. Individuals with disabilities desiring accommodations in the application process should notify the Department of Athletics at 540/231-3142.
Swimming News / Swimming Job is courtesy of Virginia Tech.