John Graham has been president of Speedo USA since October of 2016, and he brings a lot of experience to this iconic brand.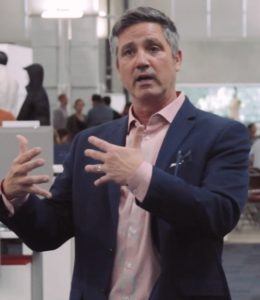 Graham spent two years as the Senior VP of Sales for surf and snowboarding apparel brand Quiksilver.  He worked with Easton Bell Sports as its Senior VP of Commerce, and he began his career at Nike, where he took on strategic, sales-driven roles in several countries over his 18-year tenure.
SwimSwam spent the afternoon at Speedo's west coast HQ with their top swimming stars.  The gathering included nearly the entire Speedo USA Team, yet it felt intimate and familial. Graham lead a Q&A between  Speedo designers, admin and the e-commerce team with athletes like Ryan Murphy, Nathan Adrian, Missy Franklin and Natalie Coughlin to name a few.
Graham stepped away to give SwimSwam a preview of what's in-store for Speedo USA on the run-up to the 2020 Olympic Games.  Competitive swimming is always a top priority, but Speedo's opening up new distribution channels into the fitness and recreation markets, notably with their EXOS partnership in 80 Lifetime Fitness facilities across North America.
LEARN MORE ABOUT THE SPEEDO USA / EXOS PARTNERSHP 
EXOS, a leader in the human performance industry, and Speedo USA, a division of PVH Corp., today released a new online course for fitness professionals, EXOS Presents: Speedo Fit Training. The course, which showcases the science behind the Speedo Fit aquatic training program that Speedo USA and EXOS introduced in 2016, teaches fitness professionals how training in the water can benefit people of all ages and levels of physical fitness, and how to incorporate it into their training programs.
"After working with Speedo USA to create and launch the Speedo Fit aquatic training program last year, we're excited to bring the science and application of the program to industry professionals," said Mark Verstegen, founder and president of EXOS. "This course will further showcase the powerful benefits of water for all who are looking to improve their clients' health and performance, and how they will have fun doing it."
After completing the course, fitness professionals should feel empowered in their understanding of the aquatics space and how to use it to complement land-based training regimens, train clients through injury, and improve personal, small and large group sessions for all ages.
"EXOS has been the perfect partner for us in developing and, now, expanding Speedo Fit," said John Graham, president of Speedo USA. "Their expertise in human performance has allowed us to take our leadership in the water to new depths and translate Speedo Fit techniques into an education course for trainers across the country. We look forward to seeing even more people 'Get Speedo Fit' as a result of this program and our partnership with EXOS."
The course breaks down the five benefits of training in water, EXOS' philosophy on human performance, and how the EXOS training system relates to a pool setting. It includes three lecture presentations, two training session templates and practical content filmed at a pool to fully demonstrate what the training experience looks like.
Topics include:
The art of coaching in the pool and training techniques for the water
Strategies you can use with different populations based on their unique performance needs
Safety tips for training sessions in the pool
EXOS methodology and how it applies to the water setting
Speedo USA will also offer trainers who have completed the online course with a code for 30 percent off of product (details and code to be provided individually following completion). Fitness professionals can additionally earn continuing education units.
For more information regarding this course, visit http://www.teamexos.com/speedofit.
About Speedo
Speedo is the world's leading swimwear brand. The teams at Speedo are passionate about life in and around the water, creating revolutionary new technologies, designs and innovations, and supporting swimming from the grassroots to the elite level. In the 1920's Speedo made history with the Racerback, the world's first non-wool suit. In 2008, Speedo redefined swimwear again with Fastskin LZR RACER, one of the fastest and most technologically advanced swimsuits ever created; 2011 saw Speedo unveil another world first with the Fastskin Racing System – a cap, goggle and suit designed to work together as one.  Speedo is owned by Speedo Holdings B.V. and distributed in over 170 countries around the world; in North America and the Caribbean, Speedo is licensed exclusively to Warnaco Swimwear Inc., a wholly owned subsidiary of PVH Corp. To find out more, visit www.speedousa.com.
Speedo USA is a SwimSwam partner.