The purpose of this article is to create awareness regarding indoor pool air quality problems and why they exist, while answering frequently asked (and commonly misunderstood) questions. 
Air quality has increasingly become a hot-button topic worldwide, garnering the attention of the World Health Organization (WHO) and US Centers for Disease Control (CDC). All of the information contained in this article is accessible online through credible resources, and we encourage all of you to research these topics on your own so that we can, together, keep our sport as safe and healthy as possible.
Take a moment and ask yourself: what's the worst air quality you've ever experienced at an indoor pool?  Not just recently…but ever.  Have you ever wondered why?  Why is the air so bad in most indoor pools, and seemingly fine in others?  What's making that happen?  What's really going on?
The answers boil down to basic chemistry and air physics.
For those familiar with science, we know that for every action, there is an equal and opposite reaction.  Therefore, accept the following as inevitable: when people get in a pool [action], chemical byproducts off-gas into the air [reaction].  It is as simple as it sounds, and as guaranteed as the 400 IM is painful.
Of course, there are two types of pools: indoor and outdoor.  Outdoor pools usually have no air quality problems because the chemical byproducts can escape unnoticed.  Indoor pools, however, trap that contaminated air, and that is what we smell when we walk into a pool.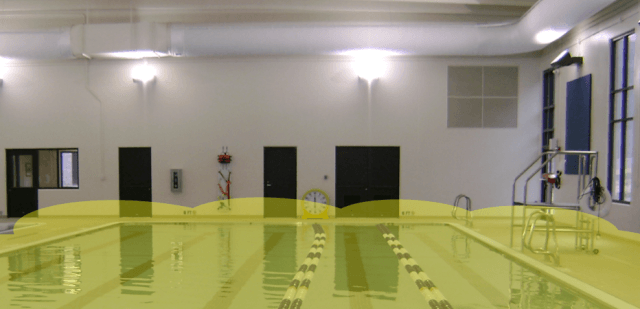 The chemical reactions that take place in pools are both inevitable and needed. Pools must stay clean for various health reasons, so most rely on a primary disinfectant chemical such as chlorine or bromine (for this article, we use 'chlorine' generally to cover both).  As a disinfectant, chlorine's purpose is to attack and eliminate organics – including bacteria, dirt, sweat, body oils, hair, dead skin, mucus and yes, urine.
Have you ever wondered why chlorine bleaches your hair and makes it feel dead and sticky?  It's exactly the problem that Dr. Chadeayne addresses with SwimSpray.  Chlorine gives us 'swimmer hair', and dries out our skin because it's just doing its job.  Our hair, skin and the rest of our body is shedding organics into the water constantly, and chlorine is in a constant battle trying to burn up those organics.  The process is called oxidation.  [Your pool's operator can explain further].

The bottom line: chlorine attacks organics, and that chemical reaction creates byproducts.
So what are those byproducts and where do they go?  There are several types of disinfectant byproducts (DBPs).  The main byproducts are called chloramine(s), which are the focus of this article.  There are three types of chloramines: mono-, di-, and trichloramines.
Mono- and dichloramines stay waterborne until they become trichloramines (formally called Nitrogen Trichloride), which off-gas into the air and produce that familiar 'pool smell' in most natatoriums.  Furthermore, the trichloramines are what burn our eyes, skin, nose and throat.  Trichloramines are the crux of the problem.  It is also important to note that the atomic weight of Nitrogen Trichloride is far heavier than oxygen, which means trichloramines are heavy and stay low in the natatorium.
As a swimmer or swimming coach, you may be thinking 'that's just boring chemistry stuff,' but it is essential to understanding air quality problems in indoor pools.  Think about it: harmful trichloramines off-gas from the surface of the water, and they are heavier than oxygen, so they just sit there …
Where do swimmers breathe?
The worst air in the room is what swimmers are inhaling the entire workout or race.  It's part of the reason why so many swimmers have respiratory problems throughout the season, and why many need inhalers on deck next to their water bottles.  The unfortunate reality is trichloramines are directly linked to a plethora of health risks that range from a simple cough or sore throat to more serious issues.  For more health information click here.
To recap, chlorine cleans the pool by oxidizing organics, and the result is chloramines.  Trichloramines need to off-gas into the air for the oxidation process to complete; when they do, they stay low in the air because their atomic weight is heavier than oxygen.  The contaminated "chloramine bubble" continues to build because it cannot escape the building, and soon it begins to be noticed by people walking on the deck, such as coaches and lifeguards.  The effect only grows and compounds itself when air physics get involved.
To be continued…
We are swimmers and swammers, just like you, who have suffered through bad air quality for countless years.
We know how miserable an indoor pool can be during swim practice or a meet, because we've lived it.  It is personal to us, and we have devoted our careers to not only educating the swimming community about air quality, but actually solving the problem.  Our mission is to make the indoor pool a healthy, desirable place to be—not just a tolerated amenity.  More at www.paddockevacuator.com.
Learn more and like Paddock Evacuator on Facebook here.


This release is courtesy of Paddock Evacuator, a SwimSwam partner.