A photo finish in the women's 5K at the 2016 U.S. Open Water Nationals saw Aurelie Muller eke out the title over Haley Anderson.
Muller, of France, was the winner of the featured 10K race at last summer's World Championships, and should be a major gold medal contender at the Olympics this coming summer.
She finished in 1:01:48.307 to Anderson's 1:01:48.409. Anderson was last summer's World champ in the 5K as well as the 2012 Olympic silver medalist at the 10K distance.
The 5K photo finish comes just a day after a touchout gave Ashley Twichell the 10K title over Italy's Rachele Bruni.
Brazil's duo of Poliana Okimoto and Ana Marcela Cunha took third and fourth, just a tick behind the top two. Behind them were a pair of Italians: Bruni and Ariana Bridi, and the next two Americans (Emily Brunemann and Twichell) were 7th and 8th for the second and third domestic finishing spots.
USA Swimming tweeted video of the finish, which you can see below:
Photo finish for Okimoto and @SwimHaley! We'll let you know who won shortly #OWNats pic.twitter.com/BR68b18anT

— USA Swimming Live (@USASwimLive) April 10, 2016
Full results aren't available, but you can see a list of the top 17 finishers here, courtesy of @USASwimLive on Twitter: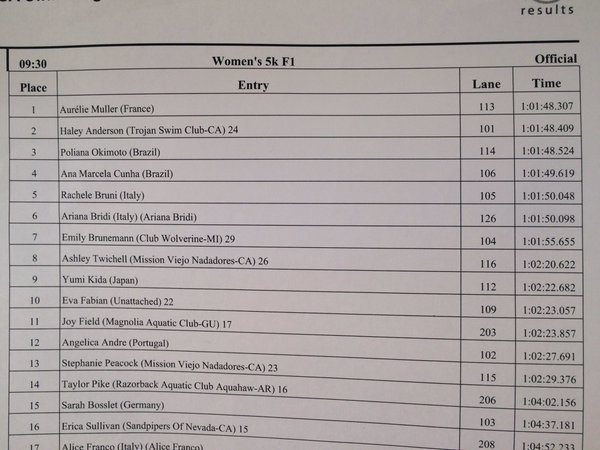 A photo of the top finishers:
Women's 5K top 10 results. #OWNats pic.twitter.com/QkJOg8H7sE

— USA Swimming Live (@USASwimLive) April 10, 2016