The University of Florida men's and women's swimming & diving teams return to action on Saturday (Jan. 3), as the Gators travel to Tallahassee, Fla. to take on Florida State in the "Share a Little Sunshine Showdown" in the Morcom Aquatic Center at 1pm.
Florida's men and women have enjoyed great success over FSU, as the men lead the Seminoles 53-23-1 and the Gator women lead Florida State 40-3 all-time.
Florida's swimming and diving teams last met FSU a season ago on Jan. 4, 2014, when the Gator men and women bested the Seminoles, 180-118 and 153-147, respectively in Gainesville, Fla.
In that meet, Florida's men led from start to finish, winning all of the freestyle, breaststroke and relay events. The Gator women needed to battle back after Florida State placed 1-2 in both sprint events. The gator women finished strong with wins in the 200-yard backstroke, 200-yard breaststroke and the 100-yard butterfly. A second place finish in the 200-yard freestyle relay clinched the final score for the Orange and Blue.
The Gators are coming off the Georgia Tech Invite (Nov. 20-22), where Florida's No. 4-ranked men captured 10 individual titles and five relay victories, while the No. 7 Gator women notched eight individual and four relay event wins en route to both teams capturing Invitational titles.
FLORIDA VS. FLORIDA STATE | FLORIDA MEET NOTES
FLORIDA STATE | SATURDAY, JANUARY 3 | MORCOM AQUATIC CENTER | 1pm ET
· 2014-15 FSU Dual Record: W: 1-2 | M: 1-2
· Series Record: Florida leads: W: 40-3 | M: 53-23-1
· Last Meeting: 2014 in Gainesville: W: 153-147 | M: 180-118
Gregg Troy – TROY'S TALKING
"The FSU meet is always a spirited competition, as so many of the athletes on each squad looked at both schools. This meet also provides for a unique opportunity after exams to springboard into the main part of the season."
NATION'S BEST
This season, Florida's men have had five individuals record a combined 10 NCAA top-10 times across eight events. For the women, UF has had two individuals record a combined five NCAA top-10 times across five events.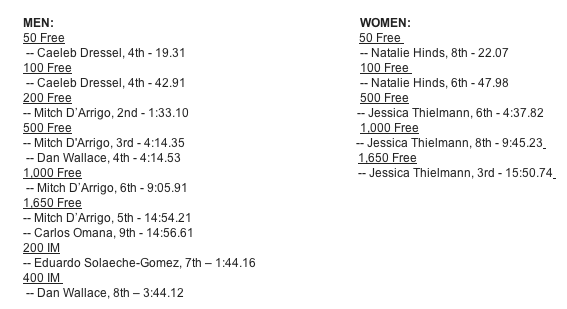 TOP RELAY'S
The Gators rank in the top-eight of six relays, including four on the men's side and two on the women's. For the men, the Gators sit fifth in the 400-yard medley relay (Blyzinskyj, Dressel, Main, Solaeche-Gomez; 3:09.55) and sixth in the 400-yard freestyle relay (Dressel, Main, Wallace, Werner; 2:53.21), 800-yard freestyle relay (D'Arrigo, Main, Wallace, Werner; 6:24.27) and 200-yard medley relay (Dressel, Homer, Main, Solaeche-Gomez; 1:26.03), 400 medley relay (Blyzinskyj, Solaeche-Gomez, Dressel, Main; 3:09.55).
POSTSEASON QUALIFIERS
Florida notched numerous NCAA 'B' provisional marks during the fall season and most recently clocked five NCAA 'A' automatic times at the Georgia Tech Invitational, including:
· Women's 200 FR (Russell, McKnight, Linn, Hinds – 1:28.94)
· Women's 400 FR (McKnight, Russell, Hinds, Linn – 3:16.07)
· Caeleb Dressel (50 Free – 19.31)
· Jessica Thielmann (1,650 Free – 15:50.74)
· Dan Wallace (500 Free – 4:14.53)
RANKED
The Florida men's swimming and diving team is No. 4 and the women sits at No. 7 in the College Swimming Coaches Association of America rankings, CSCAA officials announced on Dec. 10 and Dec. 11, respectively. Head Coach Gregg Troy's women are off to a 3-2 start, with Southeastern Conference victories over Arkansas, LSU and Kentucky. Meanwhile, the men are 3-1, with SEC wins over LSU and Kentucky.
NEXT UP
Florida next competes at No. 10 Auburn on Jan. 24, before returning home a week later on Jan. 31 to finish off its regular season against No. 15 Tennessee in the Stephen C. O'Connell Center Natatorium.
College Swimming News courtesy of the University of Florida.