Apparently, James Magnussen has changed his mind about being done with competition. That, or SwimmingAustralia didn't get the memo. Magnussen is slated to compete at next week's Australian Grand Prix meet that will include a majority of the EnergyAustralia Swim Team at the Australian Institute of Sport in Brisbane, both according to the official start lists of the meet as well as the official meet flier list Magnussen as a "go" for the meet.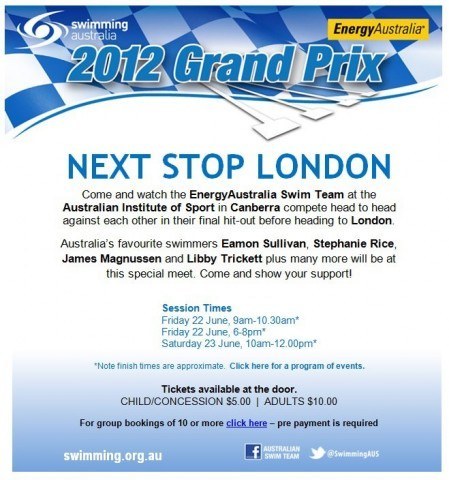 Whether he swims the 100 free for which he's entered or not, this meet will be a spectacular meet for Australia; it will remain small so as to ensure every race is exciting, but will still feature many of the biggest names in the sport. That includes a Leiston Pickett – Leisel Jones showdown in the women's 100 breast, and Emily Seebohm will fave Meagen Nay in the 100 back, for example.
The best from New Zealand will be joining the meet as well; Lauren Boyle will race Brittany Elmslie and Jade Neilsen in the women's 200 free; the young Kiwi backstroker Gareth Kean will show off against Australia's young backstrokers Mitch Larkin and Matson Lawson. The highlight race of the entire meet could be the men's 100 breaststroke, where Christian Sprenger and Brenton Rickard will square-off with New Zealand's Glenn Snyders in an unusual bout of domestic competition.
The women's sprints will be impressive; the 100 free will feature the majority of the Australian women's relay: Melanie Schlanger, Cate Campbell, Yolane Kukla, Libby Trickett, and Alicia Coutts all lining up.
Kenrick Monk and Nick D'Arcy are also slated to make their first appearances since the gun-gate "scandal" that has riled Australian swimming for the last week.
As for that men's 100 free: it could be the rematch of Magnussen and James Roberts if it happens, the two fastest men ever in textile. Even if Magnussen scratches the meet, Roberts will still have good competition from Eamon Sullivan and Cameron McEvoy.