Jersey, a British crown dependency located off the coast of Normandy, France, has named 2 swimmers to its roster for the 2018 Commonwealth Games. Gemma Atherley and Harry Shalamon, who both train at colleges in the United States, will represent the country in swimming. The Jersey Commonwealth Games Association  has now announced teams for shooting, lawn bowling, athletics, badminton, cycling, gymnastics, swimming, and triathlon.
The small island is home to just over 100,000 citizens, and hasn't won a medal in any sport at the Commonwealth Games since 1990 in Auckland. The country's 4 medals in the history of the Commonwealth Games have come in rifle shooting, boxing, and rowing.
To be chosen for the team in swimming, athletes had to meet a 'performance indicator,'and then submit documentation and paperwork of continued training both in the pool and in the gym.. The times are based roughly on the 15th-best times in Britain, with some adjustments being made. The entire Jersey delegation is capped at 33 athletes, plus any beach volleyball athletes who might earn a spot.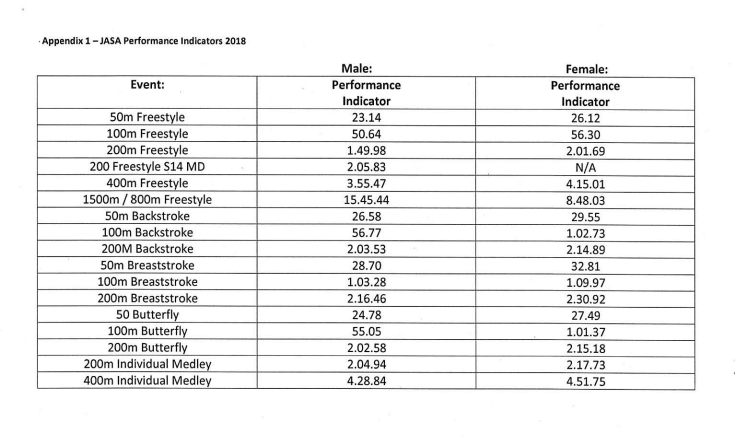 The country sent 2 swimmers, both male, to the 2014 Commonwealth Games. Tom Galichan swam 7 races and had his best finish at 16th in the 50 backstroke, while Ian Black made semi-finals in both of his events, including tying for 12th in the 50 breaststroke.
Both swimmers were chosen in spite of being short of the performance indicators Atherley, who trains at George Washington University, will swim the 200 backstroke. Her best time in that race is a 2:17.02, which she did at last summer's Swim England National Summer Meet. She did, however, swim a 2:00.45 in the 200 yard backstroke at the Magnus Cup Invitational in November. That's about 4 seconds better than she was at the same point a year prior.
Shalamon, meanwhile, will swim the 50 and 100 backstrokes. His best times in those events, both from May, are 26.60 and 57.49, respectively. He too performed well at his mid-season college meet, representing Division II side Grand Valley State. He swam 47.66 in the 100 yard backstroke, which is an NCAA consideration time and is .99 seconds better than he was mid-season last year.