The HardCoreSwim of the week goes to France's Camille Muffat, who despite jet-setting around Europe put up the world's two-fastest times in the 400 free this past week.
First came a 4:02.84 on the Monaco stop of the Mare Nostrum series, which was followed by a 4:02.64 on Thursday in Rome at the Sette Colli Trophy.
Muffat has been knocked in the past few years for doing her best times in-season, but the defending Olympic Champion in this race has shown that she's ready for Barcelona by putting up two stellar times in a 5-day span. She's now gone under 4:03 five different times in her career, all of which have been in textile. Nobody has gone faster more times in textile than she has, and only Italian Federica Pellegrini (7 times) and Rebecca Adlington (6 times) have been under that mark more times in any suit.
It's scary to think that Janet Evans' World Record of 4:03.85 lasted from 1988 through 2006, and has come so far since.
With Adlington retired and Pellegrini swimming backstroke this year, the names are few and far between who can challenge Muffat for the World Championships, especially with how consistent she showed she could be last year. It would seem that the two Americans who qualify out (especially Schmitt and Ledecky), or Denmark's Lotte Friis could be the challengers.
Perhaps the loss of a training partner Yannick Agnel could be detrimental to Muffat's performance? Even a few tenths could cost her gold.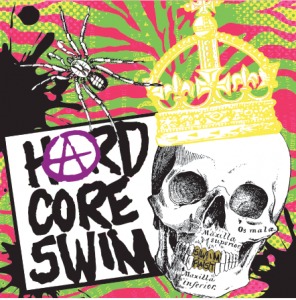 Founded on the pool decks of Southern California, HARDCORESWIM examines and explores the ethos of the hardcore swimmer. HARDCORESWIM is an authentic and innovative designer, marketer and manufacturer of premium quality men's and women's swimsuits, Custom Team Swim Suits, training gear, clothing, accessories and related products. Our true, authentic, innovative, iconoclastic, and creative style differentiates us from the bland competitive swim industry and gives us reason to be. All made in the USA. Check us out at www.hardcoreswim.com or find us at www.facebook.com/hardcoreswim .
Follow HardCoreSwim on Twitter here.